Main content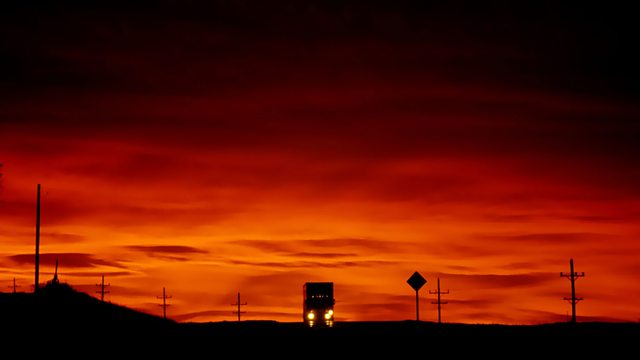 03/03/2009
John Shea presents music, including Grieg, Sibelius, Vivaldi, Beethoven, Rimsky-Korsakov, Geminiani, Glick, Marson, JE Bach, Berlioz, Chopin, Mozart, Debussy, Kodaly and Dvorak.
With John Shea.
1.00am
Grieg, Edvard (1843-1907): Norwegian Dance No 1, Op 35 (for four hands)
Havard Gimse, Leif Ove Andsnes (piano)
1.07am
Grieg: Sonata No 3 in C minor for violin and piano, Op 45
Julian Rachlin (violin)
Leif Ove Andsnes (piano)
1.31am
Grieg: Ballade in G minor, Op 24
Leif Ove Andsnes (piano)
1.53am
Grieg: Sonata in A minor for cello and piano, Op 36
Truls Mork (cello)
Havard Gimse (piano)
2.20am
Sibelius, Jean (1865-1957): Symphony No 1 in E minor, Op 39
Orchestre National de France
Charles Dutoit (conductor)
3.00am
Vivaldi, Antonio (1678-1741): Gloria (Cantata in D for soloists, mixed choir and orchestra, RV588)
Ann Monoyios (soprano)
Matthew White (countertenor)
Colin Ainsworth (tenor)
Tafelmusik Chamber Choir
Tafelmusik
Ivars Taurins (conductor)
3.30am
Beethoven, Ludwig van (1770-1827): Sonata No 1 in D for violin and piano, Op 12
Mats Zetterqvist (violin)
Mats Widlund (piano)
3.49am
Rimsky-Korsakov, Nikolai (1844-1908): Overture (May Night)
Calgary Philharmonic Orchestra
Mario Bernardi (conductor)
3.58am
Geminiani, Francesco (1687-1762): Concerto grosso, Op 3 No 2
Europa Galante
Fabio Biondi (violin/director)
4.07am
Glick, Srul Irving (1934-2002): Suite Hebraique No 1 for clarinet and piano
James Campbell (clarinet)
Valerie Tryon (piano)
4.18am
Marson, John (1932-2007): Waltzes and Promenades for two harps
Julia Shaw, Nora Bumanis (harps)
4.31am
Glanville-Hicks, Peggy (1912-1990): Three Gymnopedies
Sydney Symphony Orchestra
Myer Fredman (conductor)
4.40am
Hartmann, Johann Peter Emilius (1805-1900): Blooming like a rose garden
Fionian Chamber Choir
Alice Granum (director)
4.46am
Bach, Johann Ernst (1722-1777): Meine Seele erhebt den Herrn - motet
Rheinische Kantorei
Das Kleine Konzert
Hermann Max (conductor)
5.00am
Berlioz, Hector (1803-1869): Overture (Beatrice and Benedict, Op 27)
New Zealand Symphony Orchestra
Neville Marriner (conductor)
5.09am
Chopin, Fryderyk (1810-1849): Rondo in C minor, Op 1
Ludmil Angelov (piano)
5.18am
Mozart, Wolfgang Amadeus (1756-1791): Symphony No 29 in A
Amsterdam Bach Soloists
5.41am
Debussy, Claude (1862-1918): Ariettes oubliees
Elizabeth Watts (soprano)
Gary Matthewman (piano)
5.58am
Kodaly, Zoltan (1882-1967): Summer Evening
Philharmonic Society Orchestra
Zoltan Kodaly (conductor)
6.20am
Dvorak, Antonin (1841-1904): Piano Quintet No 2 in A, Op 81
Janine Jansen, Anders Nilsson (violins)
Julian Rachlin (viola)
Torleif Thedan (cello)
Itamar Golan (piano).