Main content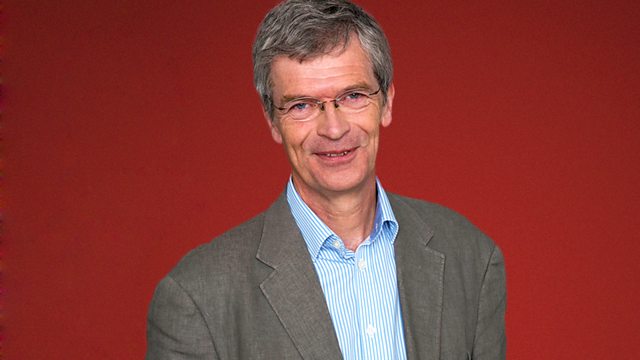 28/02/2009
Geoffrey Smith presents a selection of listeners' jazz requests. Email jazz.record.requests@bbc.co.uk.
Jazz Record Requests
Presented by Geoffrey Smith
Saturday 28 February 2009 5pm–6pm
JRR Signature Tune:
Oh, but on the Third Day (Happy Feet Blues) (Marsalis)
Performed by Wynton Marsalis (tpt), Marcus Roberts (pno), Todd Williams (tsx), Dr Michael White (clt), Danny Barker (bjo), Teddy Riley (tpt), Freddie Lonzo (tbn), Reginald Veal (bs), Herlin Riley (dms)
Recorded 28 October 1988
Taken from the album The Majesty of the Blues
1989 CD (CBS 465129 2)
Jersey Lightning (Luis Russell) (3:22)
Performed by Luis Russell and his Orchestra: Henry 'Red' Allen, Bill Coleman (tp) J.C. Higginbotham (tb) Albert Nicholas (cl, as) Charlie Holmes (ss, as) Teddy Hill (ts) Luis Russell (p) Will Johnson (bj, g) Pops Foster (b) Paul Barbarin (d, vibes)
Recorded New York City, 6 September 1929
Taken from the album Louis Russell and his Orchestra
(Topaz TPZ 1039. Track 6)
Aunt Hagar's Blues (Brymn, Handy) (4:56)
Performed by Louis Armstrong and his All-Stars: Louis Armstrong (tp, v) Barney Bigard (cl) Barrett Deems (d) Billy Kyle (p) Velma Middleton (v) Arvell Shaw (b) Trummy Young (tb)
Recorded 12 July 1954
Taken from the album Louis Armstrong Plays W.C. Handy
1997 CD (Columbia/Legacy CK 64925 Track 4)
Selling My Pork Chops (Minnie McCoy) (2:52)
Performed by Minnie McCoy (v, g) Black Bob (p) Casey Bill Weldon (steel guitar) Bill Settle (b)
Recorded Chicago, 31 October 1935
Taken from the album That's Chicago's South Side – The Secret History of Rock & Roll
2002 CD (Bluebird 09026 63988 2 Track 9)
I Got Rhythm (Gershwin) (3:01)
Performed by Oscar Peterson (p) Armand Samson (g) Bert Brown (b) Roland Verdon (d)
Recorded Montreal, 17 August 1945
Taken from the album Oscar Peterson Piano Power
2005 CD (Proper P1473 Disc 1 Track 1)
You're My Thrill (Jay Gorney, Sidney Clare) (5:15)
Performed by Mel Powell Trio: Mel Powell (p) Bobby Donaldson (d) Ruby Braff (t)
Recorded New York City, 24 August 1954
Taken from the album Thingamagig
LP (Vanguard VRS 8502 S1/2)
Days of Wine and Roses (Henry Mancini, Johnny Mercer) (4:43)
Performed by Curtis Stigers (v) Anthony Wilson (g) Gilbert Castellanos (tp) Larry Goldings (p) John Clayton (b) Jeff Hamilton (d)
Recorded Hollywood, 16 – 17 October 2001
Taken from the album Secret Heart
2002 CD (Concord Jazz CCD22142 (1) Track 3)
Wiggle-Waggle (Herbie Hancock) (5:49)
Performed by Herbie Hancock (p) Joe Henderson (ts) Johnny Coles (tp) Garnett Brown (tb) Buster Williams (b) Albert 'Tootie' Heath (d)
Recorded May-June 1969
Taken from the album Fat Albert Rotunda
(Warner 9362475402(1) Track 1)
Gerry Meets Hamp (Lionel Hampton) (7:35)
Performed by Gerry Mulligan (bs) Lionel Hampton (vibes) Hank Jones (p) Bucky Pizzarelli (g) George Duvivier (b) Grady Tate (d) Candido Camero (conga)
Recorded New York City, 29 October 1977
Taken from the album Lionel Hampton presents Gerry Mulligan
1983 CD (Kingdom Jazz CDGATE 7014(1) Track 4)
Lillekort (Garbarek, Abercrombie, Vasconcelos) (4:54)
Performed by Jan Garbarek (ss) Nana Vasconcelos (talking drums, percussion) John Abercrombie (mandolin guitar).
Recorded Talent Studios, Oslo, Norway, December 1980
Taken from the album Jan Garbarek Selected Recordings
2002 CD (ECM: rarum II 014 165-2 Disc 1 Track 4)
Little Rootie Tootie (Thelonious Monk) (8:53)
Performed by Donald Byrd (tp) Eddie Bert (tb) Bob Northern (fhr) Jay McAllister (tu) Phil Woods (as) Charlie Rouse (ts) Pepper Adams (bs) Thelonious Monk (p) Sam Jones (b) Art Taylor (d) Hall Overton (arr)
Recorded New York, 28 February 1959
Taken from the album The Thelonious Monk Orchestra at Town Hall
1989 CD (Riverside OJCCD1352(1) Track 4)
Don't forget, you can have your say on today's programme, or any aspect of jazz, by visiting the Jazz Messageboard.
The BBC is not responsible for the content of external internet sites.