Main content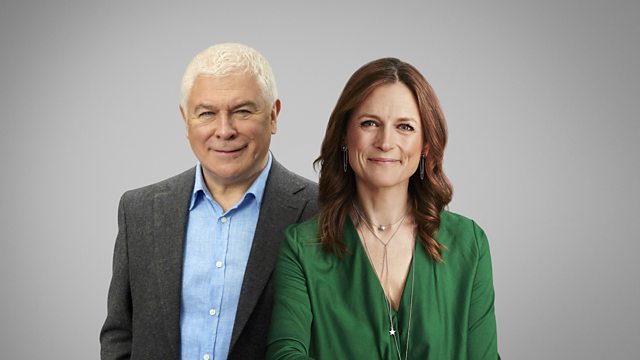 26/02/2009
Presented by Sean Rafferty. With conductor Mark Elder and soprano Elina Garanca on Bellini's I Capuleti e i Montecchi at the Royal Opera House, plus soprano Anne Sofie von Otter.
Sean Rafferty presents a selection of music and guests from the arts world.
Soprano Anne Sofie von Otter talks about her debut at Manchester's Bridgewater Hall in a Nordic programme with the Malmo Symphony Orchestra. The concert includes the UK premiere of Songs by Swedish composer Rolf Martinsson. She also discusses her new disc of Bach.
Conductor Mark Elder and mezzo-soprano Elina Garanca join Sean ahead of the Royal Opera House's revival of their classic production by Pier Luigi Pizzi of Bellini's I Capuleti e i Montecchi, which also features soprano Anna Netrebko.
17:02
WALDTEUFEL
Espana
Monte Carlo Philharmonic
Willi Boskovsky (conductor)
EMI 585066 2
Track 21
6'21
17:09
GRIEG
Ein Traum
Anne Sofie von Otter (mezzo-soprano)
Bengt Forsberg (piano)
DG 437 521 2
Track 14
2'03
17:17
HANS GEFORS
The Sphinx
Anne Sofie von Otter (mezzo-soprano)
Gothenberg Symphony Orchestra
Kent Nagano (conductor)
DG 477 7439
Track 10
4'23
17:28
BACH
St Matthew Passion (Erbarme dich)
Anne Sofie von Otter (mezzo-soprano)
Concerto Copenhagen
Lars Ulrik Mortensen (director)
DG 477 746 7
Track 4
6'08
17:35
WOLF-FERRARI
L'amore medico (Overture)
BBC Philharmonic
Gianandrea Noseda (conductor)
CHANDOS CHAN 10511
Track 13
7'56
17:43
Piano concertos skit
Rainer Hersch (piano)
LAUGHING STOCK LAFFCD 0165
Track 11-12
2'19
17:53
HAYDN
Variations in G on 'Gott erhalte' (arr. from the 'Emperor' String Quartet, Hob III.77)
Gary Cooper (fortepiano)
CHANNEL CLASSICS CCSSA 26509
Track 3
5'28
18:03
BEETHOVEN
Egmont Overture
Vienna Philharmonic
Leonard Bernstein (conductor)
DG 469 322 2
CD 2
Track 8
8'52
18:12
REGER
Gavotte (Suite no.2 in D minor)
Alban Gerhardt (cello)
HYPERION CDA 67581/2
CD 1
Track 12
3'27
18:16
BELLINI
I Capuleti e I Montecchi (Se Romeo t'uccise un figlio)
Elina Garanca (mezzo-soprano)
Vienna Symphony Orchestra
Fabio Luisi (conductor)
DG 477 8031
CD 1
Track 8
2'47
18:25
BELLINI
I Capuleti e I Montecchi (Vieni ah! vieni, in me riposa)
Anna Netrebko (soprano)
Elina Garanca (mezzo-soprano)
Vienna Symphony Orchestra
Fabio Luisi (conductor)
DG 477 8031
CD 1
Track 18
3'52
18:33
BELLINI
I Capuleti e I Montecchi (Ah, crudel! Che mai facesti)
Elina Garanca (mezzo-soprano)
Vienna Symphony Orchestra
Fabio Luisi (conductor)
DG 477 8031
CD 2
Track 15
4'35
18:39
BACH (orch. Elgar)
Fantasia and fugue in C minor, BWV.537/Op.86
Halle Orchestra
Mark Elder (conductor)
HALLE HLL 7509
Tracks 10-11
8'43
18:49
DOWLAND
Behold a wonder here
Emma Kirkby (soprano)
Anthony Rooley (lute)
BIS SACD 1475
Track 12
2'48
18:53
SAINT-SAENS
Romance, Op.37
Kathryn Thomas (flute)
Richard Shaw (piano)
DEUX-ELLES DXL 1125
Track 1
6'15