Main content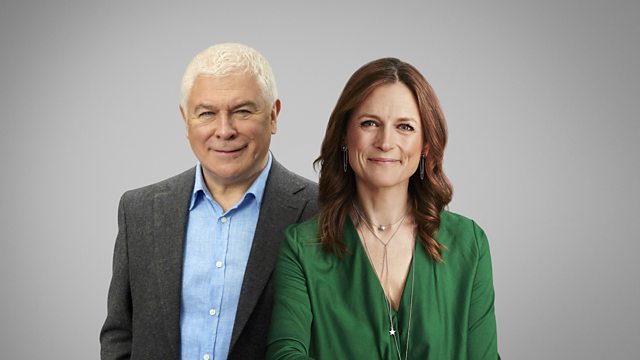 25/02/2009
Presented by Sean Rafferty. The Pavel Haas Quartet peform in the studio, and singers Stig Andersen and Soile Isokoski join Sean ahead of performances in London and Birmingham.
Sean Rafferty presents a selection of music and guests from the arts world, including New Generation Artists the Pavel Haas Quartet performing works by Smetana and Ravel in the studio.
Plus tenor Stig Andersen and soprano Soile Isokoski discussing their forthcoming performance of Schoenberg's Gurrelieder at the Birmingham Symphony Hall and London's Royal Festival Hall with the Philharmonia. Gurrelieder opens Esa-Pekka Salonen's 18-month expoloration of the art and culture of Vienna in the years around 1900 in a series of concerts entitled 'Vienna 1900-1935: City of Dreams'.
17.04
KREISLER
Praeludium and Allegro
Tasmin Little (violin)
John Lenehan (piano)
BIS CD 1744
Track 1
5'37
17.10
STRAUSS
Four last songs: Fruhling
Soile Isokoski (soprano)
Berlin Radio Symphony Orchestra
Marek Janowski (conductor)
ONDINE ODE 982-2
Track 12
2'59
17.14
SMETANA
Quartet for strings no. 1 in E minor (1st movement; Allegro vivo appassionata)
Pavel Haas Quartet
LIVE
7'41
17.28
HAAS
Quartet No 3 (2nd movement)
Pavel Haas Quartet
LIVE
6'06
17.39
RAVEL
Quartet for strings in F major (4th movement)
Pavel Haas Quartet
LIVE
4'36
17.43
TELEMANN
Concerto in B flat major
Musica Antiqua Koln
Reinard Goebel (director)
ARCHIV 413 788-2
Tracks 11-14
11'30
17.54
WAGNER
Thannhauser (Act 3 – Wahn, Wahn Uberall Wahn)
Bryn Terfel (bass)
Berliner Philharmoniker
Claudio Abbado (conductor)
DEUTSCHE GRAMMOPHON 4713482
Track 5
18.04
SIBELIUS
Finlandia
Lahti Symphony Orchestra
Osmo Vänskä (director)
BIS CD 1557
Track 1
8'28
18.13
SCHUBERT
Im Fruhling
Soile Isokoski (soprano)
Marita Viitasalo (piano)
FINLANDIA FIFN9300903
CD 1
Track 3
4'32
17.18
PURCELL
Fantasia upon one note
Hesperion XX
Jordi Savall (conductor)
ALIA VOX AVSA 9859
Track 1
3'06
18.23
SCHOENBERG
Gurrelieder (Part 1: O when the moonbeams softly glide)
Susan Dunn (Tove)
Radio Symphony Orchestra, Berlin
Riccardo Chailly (conductor)
DECCA 4303212
CD 1 Track 3
2'48
18.31
SCHOENBERG
Gurrelieder (Part II: Herrgott, weißt du, was du tatest - Lord God do you know what you did)
Radio Symphony Orchestra, Berlin
Riccardo Chailly (conductor)
DECCA 4303212
CD 2 Track 1
4'19
18.40
SCHOENBERG
Gurrelieder (Part III: Wild hunt of the summer wind: Melodrama & Final Chorus)
Ernst Haefliger (speaker)
Simon Joly Chorale
Philharmonia Orchestra
Robert Craft (conductor)
NAXOS 8.557519
CD 2 Tracks 9-10
10'48
18.53
BACH
Prelude and fugue from Das Wohltemperierte Klavier, bk.1 no. 7 (BWV.846) in C major
Andras Schiff (piano)
DECCA 478 0391
CD 1 Tracks 1-2
3'55
52'54
BYRD
Miserere Mei, Deus
The Cardinall's Musick
Andrew Carwood
HYPERION CDA67653
Track 5
3'04