Main content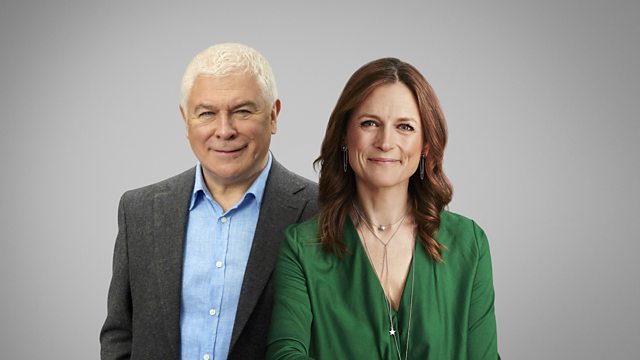 24/02/2009
Presented by Sean Rafferty. With baritone Mark Stone on his new recording of English Song, and conductor Trevor Pinnock performing with students from the Royal Academy Opera.
Sean Rafferty presebnts a selection of music and guests from the arts world.
Baritone Mark Stone talks to Sean about his new recording English Love: Songs of Passion, Pain and Pleasure. He discusses his long love affair with English song and other projects, including his role in Opera North's production of David Sawyer's opera, Skin Deep.
Celebrated harpsichordist and conductor Trevor Pinnock performs highlights from Haydn's rarely-performed opera La fedelta premiata in the studio, with students from the Royal Academy Opera. Trevor enjoys a close association with the Royal Academy of Music, working as principal guest conductor of the Academy's concert orchestra.
17:03
HAYDN
La fedelta premiata (Sinfonia)
Lausanne Chamber Orchestra
Antal Dorati (conductor)
Philips 432 430 2
CD 1
Track 1
3'27
17:07
CHOPIN
Polonaise in A flat, Op 53 "Heroic"
Evgeny Kissin (piano)
RCA 88697301102
CD 1
Track 12
6'57
17:14
RACHMANINOV
Vocalise, Op 34 No 14
Singapore Symphony Orchestra
Lan Shui (conductor)
BIS-SACD-1712
Track 5
5'52
17:21
QUILTER
Love's Philosophy
Mark Stone (baritone)
Stephen Barlow (piano)
Stone Records 5060192780000
Track 5
1'20
17:28
BRITTEN
Down by the Salley Gardens
Mark Stone (baritone)
Stephen Barlow (piano)
Stone Records 5060192780000
Track
2'36
17:36
VAUGHAN WILLIAMS
Silent noon
Mark Stone (baritone)
Stephen Barlow (piano)
Stone Records 5060192780000
Track 1
4'42
17:42
BIZET
L'Arlesienne (Suite No 1)
Ulster Orchestra
Yan Pascal Tortelier (conductor)
CHAN 8816
Track 16
16'08
18:03
PUCCINI
Ch'il bel sogno di Doretta (La Rondine)
Renata Scotto (soprano)
London Symphony Orchestra
Gianandrea Gavazzeni (conductor)
Sony SMK 60524
Track 10
3'02
18:07
SCHUMANN
3 Romances, Op 94
Richard Stoltzman (clarinet)
Richard Goode (piano)
RCA RD 86772
Tracks 8-10
11'55
18:20
HAYDN
Symphony No 45 in F sharp minor, H.I.45 "Farewell" (Allegro assai)
English Concert
Trevor Pinnock (director)
Archiv 429 757 2
Track 1
5'33
18:32
LIVE
HAYDN
La fedelta premiata (Act I finale)
Angela Bic (Amaranta)
Lauryna Bendziunaite (Nerina)
Charlotte Stephenson (Celia)
Eliot Alderman (Lindoro)
Stuart Haycock (Fileno)
Gerard Collett (Perrucchetto)
Marcin Gesa (Melibeo)
Anthony Hunt (piano)
Trevor Pinnock (conductor)
4'28
18:41
LIVE
HAYDN
La fedelta premiata (Act II finale)
Angela Bic (Amaranta)
Lauryna Bendziunaite (Nerina)
Charlotte Stephenson (Celia)
Eliot Alderman (Lindoro)
Stuart Haycock (Fileno)
Gerard Collett (Perrucchetto)
Marcin Gesa (Melibeo)
Anthony Hunt (piano)
Anthony Hunt (piano)
Trevor Pinnock (conductor)
8'40
18:50
DVORAK
Carnival overture, Op 92
Bavarian Radio Symphony Orchestra
Rafael Kubelik (conductor)
DG 435 074 2
CD 1
Track 4
8'52