Main content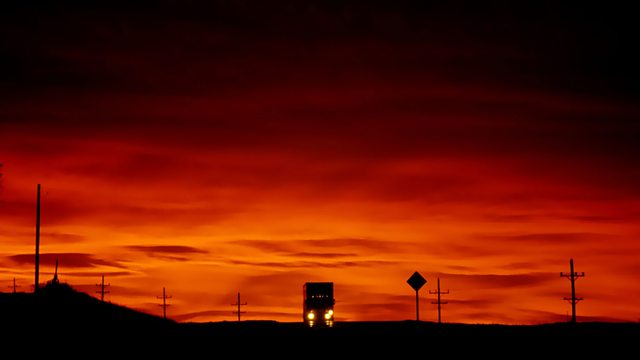 28/02/2009
John Shea features Rachmaninov's Vespers, plus works by Rimsky-Korsakov, Brahms, Maldere, Forster, Dautrecourt, Mozart, Dopper, Bach, Berlioz, Weber, Dvorak and Jarzebski.
With John Shea.
1.00am
Rachmaninov, Sergey (1873-1943): Vespers (All-night vigil) for chorus, Op 37
BBC Singers
Stephen Cleobury (director)
1.58am
Shostakovich, Dmitry (1906-1975): String Quartet No 7 in F sharp minor, Op 108
Atrium Quartet
2.11am
Scriabin, Alexander (1872-1915): Poeme in F sharp, Op 32, No 1
Alexander Scriabin (piano)
2.16am
Rimsky-Korsakov, Nikolai (1844-1908): Scheherazade - symphonic suite, Op 35
World Orchestra for Peace
Valery Gergiev (conductor)
3.00am
Kilpinen, Yrjo (1892-1959): Spielmannslieder, Op 77
Sauli Tiilikainen (baritone)
Pentti Kotiranta (piano)
3.14am
Brahms, Johannes (1833-1897): Piano Trio No 3 in C minor, Op 101
Christopher Krenyak (violin)
Jan Insinger (cello)
Dido Keuning (piano)
3.35am
Maldere, Pierre van (1729-1768): Sinfonia in G minor, Op 4, No 1
The Academy of Ancient Music
Filip Bral (conductor)
3.53am
Gottschalk, Louis Moreau (1829-1869): Le Chant du martyr - Grand caprice religieux
Lambert Orkis (piano)
3.59am
Forster, Kaspar (1616-1673): Et cum ingressus esset Jesu, KBPJ 16
Kai Wessel (countertenor)
Krzysztof Szmyt (tenor)
Grzegorz Zychowicz (bass)
Il Tempo Baroque Ensemble
4.06am
Dautrecourt, Augustin (d. c.1695, aka Monsieur de Sainte-Colombe): Concert No 44 a deux violes (Tombeau des Regrets)
Violes Esgales
4.16am
Mozart, Wolfgang Amadeus (1756-1791): Sonata in F for violin and piano, K377
Ana Savicka (violin)
Aljosa Lecic (piano)
4.35am
Dopper, Cornelius (1870-1939): Ciaconna Gotica
The Netherlands Radio Symphony Orchestra
Kees Bakels (conductor)
4.52am
Guillaume IX, Duke of Aquitaine (1071-1126): Companho ferai un vers tot covinen
Eric Mentzel (tenor)
Bois de Cologne
4.57am
Anon: La quarte estampie royal
Bois de Cologne
5.00am
Salieri, Antonio (1750-1825): Overture (La grotta di Trofonio)
Stavanger Symphony Orchestra
Fabio Biondi (conductor)
5.08am
Mozart, Wolfgang Amadeus (1756-1791): Rondo in A minor, K511
Jean Muller (piano)
5.18am
Durante, Francesco (1684-1755): Concerto per quartetto No 6 in A for strings
Concerto Koln
5.29am
Bach, Johann Sebastian (1685-1750), orch. Schoenberg: Chorale prelude, BWV 654
Sydney Symphony Orchestra
Edo de Waart (conductor)
5.37am
Stravinsky, Igor (1882-1971): Ave Maria
Tallinn Boys Choir
Lydia Rahula (conductor)
5.39am
Tubin, Eduard (1905-1982): Ave Maria
Estonian National Male Choir
Andres Paas (organ)
Ants Soots (director)
5.44am
Pezel, Johann Christoph (1639-1694): Four Intradas
Hungarian Brass Ensemble
5.51am
Tromboncino, Bartolomeo (c.1470-1535): Frottola (Gentil donna)
Joris Verdan (organ)
5.53am
Francisco de la Torre (1470-1520): Justa fue mi perdicion
Daedalus
6.00am
Berlioz, Hector (1803-1869): King Lear Overture, Op 4
Norwegian Radio Orchestra
Takuo Yuasa (conductor)
6.16am
Forster, Kaspar (1616-1673): Ad arma fidelis, KBPJ 1 - sacred concerto
Olga Pasiecznik (soprano)
Marta Boberska (soprano)
Grzegorz Zychowicz (bass)
Il Tempo Baroque Ensemble
6.21am
Weber, Carl Maria von (1786-1826): Grand duo concertant for clarinet and piano, Op 48
Charys Green (clarinet)
Huw Watkins (piano)
6.39am
Dvorak, Antonin (1841-1904): Romance in F minor for violin and orchestra, Op 11
Jela Spitkova (violin)
Slovak Radio Symphony Orchestra
Ondrej Lenard (conductor)
6.51am
Jarzebski, Adam (1590-1649): Cantate Domino
Lucy van Dael, Marinette Troost (violins)
Richte van der Meer, Reiner Zipperling (violas da gamba)
Anthony Woodrow (violone)
Viola de Hoog (cello)
Michael Fentross (theorbo)
Jacques Ogg (organ).