Main content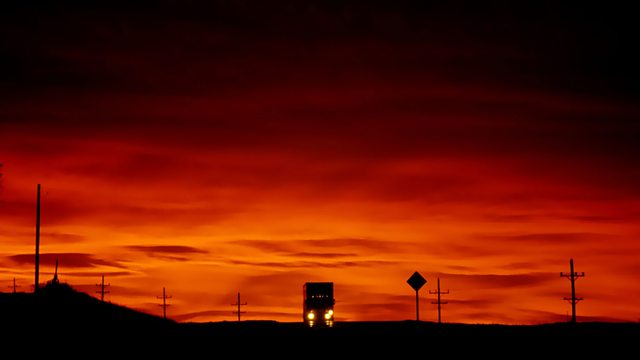 26/02/2009
John Shea presents music, including Shostakovich, Schumann, Mendelssohn, Mozart, Scriabin, Mahler, Gershwin, Bartok, Rota, Dvorak, Beethoven, Erkel/Vieuxtemps, Liszt and Balassa.
With John Shea.
1.00am
Shostakovich, Dmitry (1906-1975): Trio No 1 for piano and strings, Op 8
Alexander Sitkovetsky (violin)
Emerich Gherca (cello)
Florian Mitrea (piano)
1.14am
Schumann, Robert (1810-1856): Quintet in E flat for piano and strings, Op 44
Andrei Gocan, Sabina Dascalu (violins)
Mihai Cocea (viola)
Razvan Suma (cello)
Diana Ketler (piano)
1.43am
Mendelssohn, Felix (1809-1847): Octet for strings in E flat, Op 20
Alexander Sitkovetsky (violin)
Razvan Popovici (viola)
Razvan Suma (cello)
SoNoRo-Interferente Scholars: Sabina Dascalu, Andrei Gocan, Alexandru Malaimare (violins)
Mihai Cocea (viola)
Emerich Gherca (cello)
2.16am
Mozart, Wolfgang Amadeus (1756-1791): Serenade in C minor for wind octet, K388
Bratislava Chamber Harmony
Justus Pavlik (conductor)
2.38am
Scriabin, Alexander (1872-1915): Le poeme de l'extase for orchestra, Op 54
BBC Philharmonic
Vassily Sinaisky (conductor)
3.00am
Mahler, Gustav (1860-1911): Das Lied von der Erde
Randi Stene (mezzo-soprano)
Gwyn Hughes Jones (tenor)
Trondheim Symphony Orchestra
Eivind Aadland (conductor)
4.02am
Cage, John (1912-1992): Four squared for a capella choir
4.09am
Feldman, Morton (1926-1987): Christian Wolff in Cambridge
BBC Singers
Stephen Cleobury (conductor)
4.14am
Gershwin, George (1898-1937): Rhapsody in Blue for piano and orchestra
William Tritt (piano)
Hamilton Philharmonic Orchestra
Boris Brott (conductor)
4.31am
MacDowell, Edward (1860-1908): Hexentanz - Witches' Dance (2 Fantasiestucke for piano, Op 17, No 2)
Yuki Takao (piano)
4.34am
Bartok, Bela (1881-1945): Concerto No 3 for piano and orchestra, Sz 119
Jane Coop (piano)
Calgary Philharmonic Orchestra
Mario Bernardi (conductor)
5.00am
Rota, Nino (1911-1979): 8 1/2 - music for the film
Hungarian Brass Ensemble
5.06am
Corteccia, Francesco (1502-1571): Musica della commedia di Francesco Corteccia
Weser-Renaissance Bremen
Manfred Cordes (conductor)
5.24am
Melartin, Erkki (1875-1937): Cricket's wedding chirp, Op 15, No 2
5.26am
Luolajan-Mikkola, Vilho (1911-2005): Wedding folk dance
Sauli Tiilikainen (baritone)
Markus Lehtinen (piano)
5.30am
Klami, Uuno (1900-1961): Intermezzo for cor anglais and orchestra
Paivi Kaerkaes (cor anglais)
Radion Sinfoniaorkesteri
Sakari Oramo (conductor)
5.34am
Lithander, Carl Ludwig (1773-1843): Rondo for flute and keyboard, Op 8
Mikael Helasvuo (flute)
Tuija Hakkila (fortepiano)
5.42am
Dvorak, Antonin (1841-1904): Overture (In Nature's Realm - V prirode, Op 91)
Radio Bratislava Symphony Orchestra
Ondrej Lenard (conductor)
5.57am
Beethoven, Ludwig van (1770-1827): String Quartet in F minor, Op 95
Helsinki Quartet
6.20am
Erkel, Ferenc (1810-1893)/ Vieuxtemps, Henri (1820-1881): Duo brillant en forme de fantaisie sur des airs hongrois concertant
Ferenc Szecsodi (violin)
Istvan Kassai (piano)
6.37am
Liszt, Franz (1811-1886) arr. Mate/Szokolay: Valse oubliee No 1
Gyozo Mate (viola)
Balazs Szokolay (piano)
6.40am
Balassa, Sandor (b.1935): Valley of the Huns - symphonic poem
Hungarian Radio Symphony Orchestra
Laszlo Kovacs (conductor).