Main content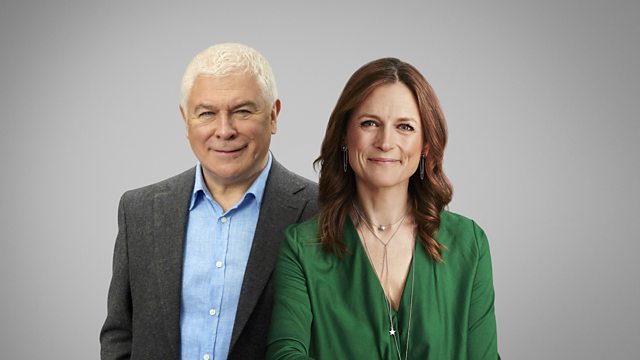 23/02/2009
Presented by Sean Rafferty. Osmo Vanska and baroque ensemble Red Priest perform in the studio. Pianist Barry Douglas also previews the Piano 2009 festival in Manchester.
Sean Rafferty presents a selection of music and guests from the arts world.
Conductor Osmo Vanska, who has has invigorated the Minnesota Orchestra since becoming their musical director in 2003, talks to Sean ahead of a performance at the Barbican in London.
Plus distinctive baroque interpreters Red Priest performing in the studio before touring the UK, and pianist Barry Douglas previewing the Piano 2009 festival in Manchester.
17.03
BACH
Concerto in G after Vivaldi
Alexandre Tharaud (piano)
Harmonia Mundi HMC 901871
T.16-18
6'54
17.10
RAVEL arr. Thierry Machuel
Pavane de la Belle au bois dormant; Le Jardin féerique (Ma Mère Oye)
Accentus
Laurence Equilbey (conductor)
NAÏVE V5048
T.18-19
4'57
17.16
LIVE
J.M. LECLAIR
Tambourin
Red Priest
2'15
17.23
LIVE
G.P.SIMONETTI
Preludio and Presto assai from trio sonata 'La Burrusca'
Red Priest
3'53
17.33
LIVE
ALBINONI/GIAZZOTTO
Adagio
7'53
17.43
RACHMANINOV
Prelude, op.23, no.5 in G minor
Barry Douglas (piano)
RCA Red Seal 09026 61679 2
Tr.4
3'40
17.50
GERSHWIN
Variations on I Got Rhythm
Aalborg Symphony
Wayne Marshall (piano/conductor)
VIRGIN VM5 61247 2
T.5
8'25
18.04
JEHAN ALAIN
Litanies
Marie-Claire Alain (organ)
ERATO ECD88194
T.1
4'03
18.07
BEETHOVEN
Symphony no.7 in A, op.92; 2nd mvt (allegretto)
Minnesota Orchestra
Osmo Vänskä (conductor)
BIS-SACD-1816
T.6
8'37
18.23
BEETHOVEN
Symphony no.2 in D, op.36; 3rd mvt. (allegro)
Minnesota Orchestra
Osmo Vänskä (conductor)
BIS-SACD-1816
T.3
3'46
18.31
BEETHOVEN
Final mvt. (allegro con brio), Symphony no.7 in A, op.92
Minnesota Orchestra
Osmo Vänskä (conductor)
BIS-SACD-1816
T.8
8'45
18.42
HAYDN
Piano Trio in G, Hoboken 15 no.25
The Florestan Trio
HYPERION CDA 67719
T.4-6
13'42
18:56
DE FALLA
Three Cornered Hat Suite, Dance of the Miller
The Philadelphia Orchestra
Eugene Ormandy (conductor)
CBS MPK 46449
T.18
3'03