Main content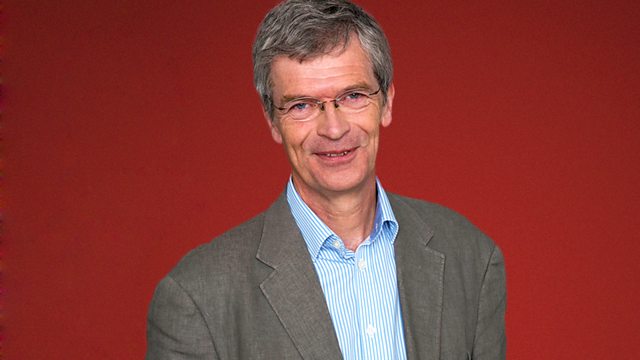 21/02/2009
Geoffrey Smith presents a selection of listeners' jazz requests. Email jazz.record.requests@bbc.co.uk.
Jazz Record Requests
Presented by Geoffrey Smith
Saturday 21 February 2009 5pm–6 pm
JRR Signature Tune:
Oh, but on the Third Day (Happy Feet Blues) (Marsalis)
Performed by Wynton Marsalis (tpt), Marcus Roberts (pno), Todd Williams (tsx), Dr Michael White (clt), Danny Barker (bjo), Teddy Riley (tpt), Freddie Lonzo (tbn), Reginald Veal (bs), Herlin Riley (dms)
Recorded 28 October 1988
Taken from the album The Majesty of the Blues
1989 CD (CBS 465129 2)
Sobbin Blues (Kassell, Burton) (3:07)
Performed by King Oliver's Creole Jazz Band: King Oliver (c) Louis Armstrong (c/slide whistle) Honore Dutrey (tb) Johnny Dodds (cl) Lil Hardin (p) Bud Scott (bj) Dabby Dodds (d)
Recorded Chicago, 22 June 1923
Taken from the album The Chronogical King Oliver and his Creole Jazz Band
(Classics 650 Track 13)
What's the Use of Getting Sober (Meyers) (3:00)
Performed by Louis Jordan (v/ts/as) Eddie Roane (tp) Arnold Thomas (p) Dallas Bartley (b) Walter Martin (d)
Recorded New York, 21 July 1942
Taken from the album Louis Jordan and his Tympany Five
(2001 JSP Records CD905B Disc B Track 15)
Sweet Georgia Brown (Bernie, Casey, Pinkard) (4:15)
Performed by Harlem Ramblers: Humphrey Lyttelton (tp/v/cl) Gunter Sellenath (tp) Tabis Bachmann (cl/d) Thedy Schutz (tb) Chris Mitchell (bj/v) Ian Armit (p) John Treichler (b) Gerry Ceccaroni (d)
Recorded Recorded 30 August 1978
Taken from the album Good Old Dixieland
(Polydor 2377 325 S1 B6)
Leave Us Leap (Finckel) (3:00)
Performed by Tony Russo, Joe Triscari, Don Fagerquist, Bill Conrad (tp) Leon Cox, Tommy Pedersen, Bill Cully (tb) Stewart Olson, Murry Williams (as) Charlie Ventura, Andy Pine, Francis Antonelli (ts) Jacob Shulman, Vic Pariante, Ray Boondi, Ted Blume, Jerome Teisler (violin) Paul Powell, George Grossman (violas) Julius Ehrenworth (cello) Teddy Napoleon (p) Edward Yance (g) Clyde Newcomb (b) Louis Zito (d) Eddie Finckel (arr)
Recorded Hollywood, 22 February 1945
Taken from the album Gene Krupa Drummin' Man
(LP CBS 32262 S1 B3)
And We Will Fly (Pasqua, Elling, Galdston) (4:16)
Performed by Kurt Elling (v) Laurence Hobgood (p) Christian McBride (b) Willie Jones III (d) Guilherme Monteiro (g) Rob Mounsey (k) Gregoire Maret (h)
Recorded New York 2007
Taken from the album Nightmoves
(2007 Concord Jazz 0888072301382 Track 6)
The Bletherer (Steele) (3:38)
Performed by Stu Richie (d) Rory Campbell (pipe/whistle) Aidan O'Rourke (fiddle) Catriona MacDonald (fiddle) Aidan O'Donnell (b) Su-a Lee (cello) Dave Milligan (p) Mairi Campbell (fiddle/viola) Colin Steele (tp) Phil Bancroft (s)
Recorded 2008
Taken from the album Stramash
(2009 Gadgemo Records GAD001CD Track 4)
Grooveyard (Perkins: arr Graham) (2:58)
Performed by Davy Graham (g)
Recorded 1964
Taken from the album folk roots new routes
(1999 Topic TSCD819 Track 15)
Cortege (Lewis) (7:24)
Performed by John Lewis (p) Milt Jackson (v) Percy Heath (b) Connie Kay (d)
Recorded New York, 4 April 1957
Taken from the album The Modern Jazz Quartet Plays No Sun in Venice
(Atlantic 7813342 Track 4)
Song for my Father (Silver) (7:15)
Performed by Carmell Jones (tp) Joe Henderson (ts) Horace Silver (p) Teddy Smith (b) Roger Humphries (d)
Recorded New Jersey, 26 October 1964
Taken from the album Song for My Father (Cantiga Para Meu Pai)
(Blue Note CDP7841852 Track 1)
Broadway (Wood, McRae) (12:20)
Performed by Jaki Byard (p) Joe Farrell (ts) George Tucker (b) Alan Dawson (d/v)
Recorded Boston, October 1965
Taken from the album The Jaki Byard Quartet Live! Vol.1
(LP Transatlantic PR7419 S2 B2)
Don't forget, you can have your say on today's programme, or any aspect of jazz, by visiting the Jazz Messageboard.
The BBC is not responsible for the content of external internet sites.