Main content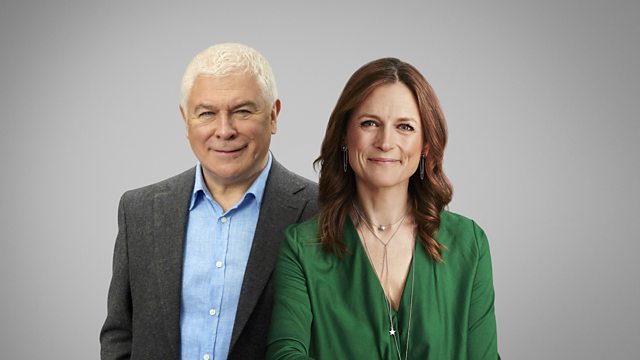 18/02/2009
Presented by Sean Rafferty. With Tim Albery, Anje Kampe and Marc Albrecht from the Royal Opera House's production of The Flying Dutchman. Plus a performance by the Badke Quartet.
Sean Rafferty presents a selection of music and guests from the arts world.
The Royal Opera House's new production of Wagner's early masterpiece The Flying Dutchman is profiled by director Tim Albery, soprano Anje Kampe and conductor Marc Albrecht, making his Covent Garden debut.
Plus the young Badke Quartet performing in the studio ahead of performances in London, Hull and King's Lynn.
17:02
Bach
Prelude & Fugue no.5 in D BWV.850
Robert Levin (harpsichord)
HANSSLER CD 92 116
CD 1 Tr. 9-10
3'08
17:06
Bruckner
Ave maria
La Chapelle Royale
Collegium Vocale
Philippe Herreweghe (director)
HARMONIA MUNDI HMC 901322
Tr. 2
3'34
17:10
Wagner
Die Fliegender Hollander Overture
Bayreuth Festival Orchestra
Joseph Keilberth (conductor)
TELDEC 4509 97491 2
CD 1 Tr. 1
10'53
17:29
Wagner
Die Fliegender Hollander: Senta's ballad
Astrid Varnay (Senta)
Bayreuth Festival Orchestra
Joseph Keilberth (conductor)
TELDEC 4509 97491 2
CD 1 Tr. 17
8'00
17:41
Wagner
Die Fliegender Hollander: Woll kenn' ich dich!...
Astrid Varnay (Senta)
Rudolf Lustig (Erik)
Ludwig Weber (Daland)
Hermann Uhde (Dutchman)
Bayreuth Festival Orchestra
Joseph Keilberth (conductor)
TELDEC 4509 97491 2
CD 2 Tr. 14
3'21
17:47
Sir John Smith, his Almaine
Dowland
Matthew Wadsworth (lute)
CHANNEL CLASSICS CCD DA 25408
Tr. 1
2'45
17:50
Sibelius
Karelia suite, Op.11
Bournemouth Symphony Orchestra
Paavo Berglund (conductor)
EMI 217674 2
CD 2 Tr. 2-3
8'51
18:03
Weber
Euryanthe: overture
BBC Philharmonic
Gunther Herbig (conductor)
BBC RADIO CLASSICS 15656 9144-2
Tr. 1
8'36
18:12
LIVE
Haydn
Quartet in D, Op.76 No 5, 1st mvt (Allegretto – Allegro)
Badke Quartet
4'49
18:22
LIVE
Schumann
Quartet in A Op.41 No.3, 3rd mvt (Adagio molto)
Badke Quartet
18:32
LIVE
Haydn
Quartet in F minor Op 20 No 5, 3rd mvt (Allegretto)
Badke Quartet
18:42
Chopin
Preludes op.28, No. 17 in A flat major (Allegretto)
Mikhail Rudy (piano)
EMI 343831 2
Tr. 23
5'57
18:49
Tchaikovsky
Nutcraker, Dance Russe Trepak
Anima Eterna
Jos van Immerseel (conductor)
Harmoni Mundi ZZT 2030102
Tr.8
1'12
18:50
Schubert
Schanengesang, D.957: Liebesbotschaft; Standchen; Die Taubenpost
Ian Bostridge (tenor)
Antonio Pappano (piano)
EMI 516 443 2
Tr. 4, 7 & 17
10'35