Main content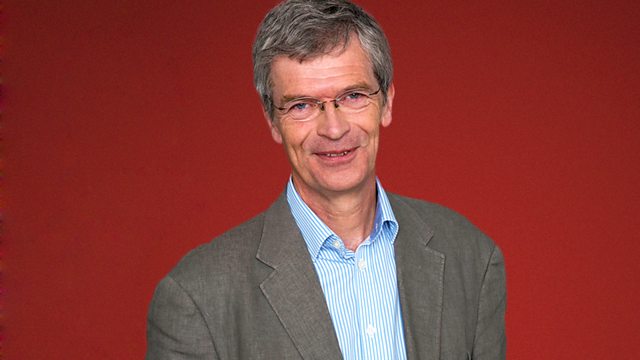 14/02/2009
Geoffrey Smith presents a selection of listeners' jazz requests. Email jazz.record.requests@bbc.co.uk.
Jazz Record Requests
Presented by Geoffrey Smith
Saturday 14 February 2009 5pm–6 pm
JRR Signature Tune:
Oh, but on the Third Day (Happy Feet Blues) (Marsalis)
Performed by Wynton Marsalis (tpt), Marcus Roberts (pno), Todd Williams (tsx), Dr Michael White (clt), Danny Barker (bjo), Teddy Riley (tpt), Freddie Lonzo (tbn), Reginald Veal (bs), Herlin Riley (dms)
Recorded 28 October 1988
Taken from the album The Majesty of the Blues
1989 CD (CBS 465129 2)
One Sweet Letter from You (Unidentified) (3:05)
Performed by Bunk Johnson and his New Orleans Band: Bunk Johnson (tp) Jim Robinson (tb) George Lewis (cl) Alton Purnell (pn) Lawrence Marrero (bj) Alcide 'Slow Drag' Pavageau (b) Baby Dodds (d)
Recorded New York, 6 December 1945
Taken from the album Bunk Johnson Volume 1 NewYork
(2005 Document Records DOCD -1001 Track 8)
My Sweet Hunk O' Trash (James P Johnson, Flournoy E. Miller) (3:16)
Performed by Louis Armstrong (v) Billie Holiday (v) Bernie Privin (tp) Sid Cooper, Johnny Mince (as) Art Drellinger, Pat Nizza (ts) Billy Kyle (p) Everett Barksdale (g) Joe Benjamin (b) Jimmy Crawford (d) Sy Oliver (d)
Recorded New York, 30 September 1949
Taken from the album Louis Armstrong Vol.8 Sing it Sarchmo
(2007 Naxos 8120818 Track 8)
My One and Only Love (G Wood, R Mellin) (3:34)
Performed by Stephane Grappelli, Joe Venuti (v) George Wein (p) Barney Kessel (g) Larry Ridley (b) Don Lamond (d)
Recorded Paris, 22 October 1969
Taken from the album Venupelli Blues
(Le Jazz CD18 Track 2)
Your Father's Moustache (Harris, Herman) (3:22)
Performed by Woody Herman and his Orchestra: Sonny Berman, Neal Hefti, Irv Lewis, Pete Candoli, Conte Candoli, Ray Linn (tp) Ralph Pfeffner, Bill Harris, Ed Kiefer (tb) Woody Herman (cl/as/v) Sam Marowitz, John La Porta (cl/as) Flip Phillips, Pete Mondello (ts) Skippy De Sair (b) Tony Aless (p) Billy Bauer (g) Chubby Jackson (b) Buddy Rich (d) Red Norvo (vb) Frances Wayne (v)
Recorded New York, 5 September 1945
Taken from the album The Woody Herman Story
(2000 Proper Records P1158 Disc 2 Track 23)
Ain't Misbehavin' (Brooks, Waller, Razaf) (3:58)
Performed by Benny Carter (tp) Alton Moore (tb) Gene Porter (cl) Fats Waller (p/v) Irving Ashby (g) Slam Stewart (b) Zutty Singleton (d)
Recorded Hollywood, 23 January 1943
Taken from the album Fats Waller Ain't Misbehavin'
(Past Perfect PPCD 78118 Track 25)
Diga Diga Do (Parts 1 & 2) (McHugh, Fields) (5:37)
Performed by Bob Crosby and his Orchestra: Zeke Zarchy, Sterling Bose, Billy Butterfield (tp) Ward Silloway, Warren Smith (tb) Irving Fazola (cl) Matty Matlock (cl/as) Joe Kearns (as) Eddie Miller (cl/ts) Gil Rodin (ts) Bob Zurke (p) Nappy Lamare (g) Bob Haggart (b) Ray Bauduc (d) Bob Crosby (d)
Recorded 19 October 1938
Taken from the album Bob Crosby Eye Opener
(Topaz Jazz TPZ 1054 track 18)
My Funny Valentine (2:53)
Performed by Gerry Mulligan Quartet: Chet Baker (tp) Gerry Mulligan (bs) Carson Smith (b) Chico Hamilton (d)
Recorded Los Angeles, September 2, 1952
Taken from the album Gerry Mulligan Walkin' Shoes
(2005 Proper Records P1481 Disc 4 Track 12)
Birdland (Zawinul) (6:26)
Performed by Alan Barnes (cl/as/bs) Gerard Presencer (tp/flh) Mark Nightingale (tb) Andy Panayi (pcc/fl/ts) Iain Dixon (cl/ts) Brian Lemon (p) Anthony Kerr (vb) Dave Green (b) Allan Ganley (d)
Recorded London, 6 January & 13 June 1997
Taken from the album Alan Barnes Presents… in a Dotty Blues
(1998 Zephyr Records ZECD 26 Track 1)
Straight Up and Down (Eric Dolphy) (8:19)
Performed by Freddie Hubbard (tp) Eric Dolphy (as) Bobby Hutcherson (v) Richard Davis (b) Anthony Williams (d)
Recorded New Jersey, 25 February 1964
Taken from the album Eric Dolphy 'Out to Lunch'
(1999 Bluenote Track 5)
Satin Doll (Ellington, Strayhorn, Mercer) (5:00)
Performed by Blossom Dearie (v) Jeff Clyne (b) Johnny Butts (d)
Recorded London, 1966
Taken from the album Blossom Dearie at Ronnie Scott's Club London
(Redial 5586832 Track 10)
Don't forget, you can have your say on today's programme, or any aspect of jazz, by visiting the Jazz Messageboard.
The BBC is not responsible for the content of external internet sites.