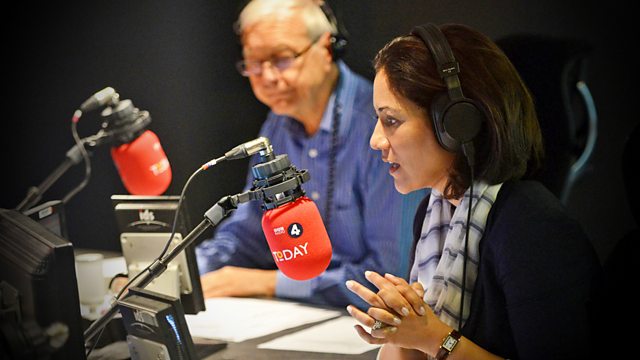 16/02/2009
Presented by Edward Stourton and James Naughtie.
Professor David Bailey of the Birmingham Business School discusses the cutbacks at the Mini factory in Cowley.
Panorama's Richard Watson explains the government's new approach to combat radicalisation in Britain.
East Africa correspondent Karen Allen explores how corruption affects life for ordinary people in Kenya.
Front Row's Mark Lawson describes his meeting with the Oscar-winning director Clint Eastwood.
Juliet Lyon, director of the Prison Reform Trust, explains how unions need to be more flexible in their approach to proposed changes.
Environment correspondent Sarah Mukherjee explains how illegal metal-detecting impacts on our national heritage.
Former government welfare advisor David Freud explains how the recession has set back welfare reform plans.
Thought for the day with Rabbi Lionel Blue.
Phil Hall, a former editor of News of the World, and Dr Pat Spungin, a child psychologist, discuss the extensive media coverage of the story of the 13-year-old who has just become a father.
Stephen Timms, Financial Secretary to the Treasury, discusses the political and financial implications the Lloyds HBOS merger.
Tony Woodley, joint general secretary of the Unite trade union, which represents workers at the Mini plant in Cowley, describes the implications of the job losses.
Science correspondent Tom Feilden examines the discovery of a 90 million-year-old crocodile fossil nicknamed the boar croc.
Usman Nawaz, general secretary of the Hull Islamic Society, and Abdul Raheem Green, a conservative Muslim preacher, discuss how the government should approach the problem of radicalisation.
Dave Birch, director of an IT management consultancy, discusses how, as fewer retailers accept cheques, this could this be an end for cash as well.
George Magnus, economic adviser at UBS Investment Bank, and Alastair Milne, from the Cass Business School, discuss the uncertainty surrounding the performance of Lloyds shares.
Venezuelans have voted to lift limits on terms in office for elected officials, allowing President Hugo Chavez to stand for re-election. Victor Bulmer-Thomas, specialist in Latin America at Chatham House, discusses.
Former government advisor Geoff Mulgan says the way governments around the world are responding to the recession shows they still think they owe special favours to old industries like the motor manufacturing sector.
Last on