Main content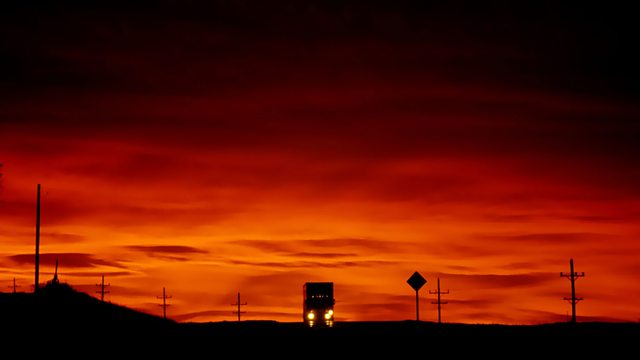 14/02/2009
Jonathan Swain presents music, including Lassus, Palestrina, Weyse, Nielsen, Debussy, Chopin, Mozart, Telemann, Brahms, Liszt, Sibelius, d'India, Prokofiev, Mouret and Suk.
With Jonathan Swain.
1.00am
Busnois, Antoine (c.1430-1492): Bel accueil
1.06am
Gombert, Nicolas (c.1495-c.1560): Tous les regretz
1.09am
Lassus, Orlande de (1532-1594): Sanctus; Agnus Dei (Missa Tous les regretz)
1.17am
Rore, Cipriano de (c.1515-1565): Se ben il duol - madrigal
1.21am
Brumel, Antoine (c.1460-1512/13): Agnus Dei (Missa Berzerette savoyenne)
1.27am
Gombert: Media vitae in morte sumus - sacred motet
1.32am
Le Jeune, Claude (1528/30-1600): Cigne je suis de candeur (I am as pure as a swan); Que nul' etoile sur nous (Let no star shine down upon us)
1.42am
de Wert, Giaches (1535-1596): Vox in Rama audita est - sacred motet
1.47am
Palestrina, Giovanni Pierluigi da (c.1525-1594): Agnus Dei (Missa Ut re mi fa sol la)
Danish National Vocal Ensemble/DR
Paul van Nevel (director)
1.55am
Weyse, Christoph Ernst Friedrich (1774-1842): Symphony No 6 in C minor
The Danish Radio Concert Orchestra
Adam Fischer (conductor)
2.22am
Nielsen, Carl (1865-1931): Symphony No 4, Op 29 (The Inextinguishable)
Danish National Radio Symphony Orchestra
Michael Schonwandt (conductor)
3.00am
Debussy, Claude (1862-1918): 3 Chansons de Charles d'Orleans
BBC Singers
3.08am
Debussy, Claude (1862-1918): String Quartet in G minor, Op 10
RTE Vanbrugh String Quartet
3.35am
Chopin, Fryderyk (1810-1849): Introduction and variations on a theme from Herold's Ludovic in B flat for piano, Op 12
Ludmil Angelov (piano)
3.42am
Mozart, Wolfgang Amadeus (1756-1791): Piano Sonata in B flat, K281
Ingo Dannhorn (piano)
3.54am
Abel, Carl Friedrich (1723-1787): Trio in G for two flutes and continuo
La Stagione Frankfurt
4.04am
Telemann, Georg Philipp (1681-1767): Sonata in C for recorder and continuo, TWV XLI C2
Camerata Koln
4.12am
Brahms, Johannes (1833-1897): Sonata in E flat for clarinet or viola and piano, Op 120, No 2
Hans Christian Braein (clarinet)
Havard Gimse (piano)
4.33am
Liszt, Franz (1811-1886): Liebestraume, S541 (No 3 in A flat)
Richard Raymond (piano)
4.38am
Liszt, Franz (1811-1886): Tasso: lamento e trionfo - symphonic poem after Byron, S96
Hungarian Radio Symphony Orchestra
Tamas Vasary (conductor)
5.00am
Saint-Georges, Joseph Bologne, Chevalier de (1745-1799): Overture (L'amant anonyme)
Tafelmusik Orchestra
Jeanne Lamon (conductor)
5.09am
Matteis, Nicola (died c.1713): L'Amore (Love)
Elizabeth Wallfisch (baroque violin)
Linda Kent (chamber organ)
5.13am
Morley, Thomas (1557/8-1602): It was a lover and his lasse
Paul Agnew (tenor)
Christopher Wilson (lute)
5.17am
Schiavetto, Giulio (fl.1562-1565): Three madrigals: O dolce amore; Amor quando fioria; Fior ch' all' intatta
Slovenian Chamber Choir
Vladimir Kranjcevic (director)
5.24am
Sibelius, Jean (1865-1957): Rakastava (The lover), Op 14 - arranged for string orchestra, triangle and timpani
CBC Vancouver Orchestra
Mario Bernardi (conductor)
5.36am
d'India, Sigismondo (c.1582-c.1629): Tow madrigals: Interdette speranz'e van desio (Forbidden dreams and hopeless love); Al partir del mio sole (At the departure of my beloved)
The Consort of Musicke
5.47am
Prokofiev, Sergey (1891-1953): Romeo at Juliet's tomb (Romeo and Juliet - Suite No 2); Death of Tybalt (Romeo and Juliet - Suite No 1)
Flemish Radio Orchestra
Yoel Levi (conductor)
6.00am
Mouret, Jean-Joseph (1682-1738): Andromede et Persee - cantata
Richard Duguay (tenor)
L'Ensemble Arion
6.15am
Saint-Saens, Camille (1835-1921): Aria: Mon coeur s'ouvre a ta voix (Samson et Dalila) - arr. for trumpet and orchestra
Jouko Harjanne (trumpet)
Norwegian Radio Orchestra
Ari Rasilainen (conductor)
6.21am
Khachaturian, Aram (1903-1978): Adagio of Spartacus and Phrygia (Spartacus)
Ukrainian National Radio Symphony Orchestra
Vyacheslav Blinov (conductor)
6.31am
Suk, Josef (1874-1935): Pohadka, Op 16 (Raduz and Mahulena)
Czech Philharmonic Orchestra
Vaclav Smetacek (conductor).