Main content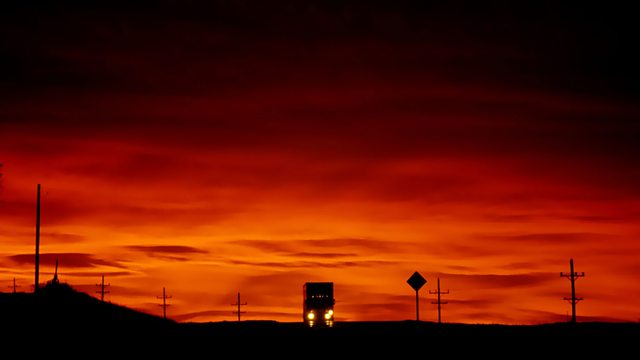 10/02/2009
Jonathan Swain presents music, including Dukas, Debussy, Buffardin, Marais, Franck, Bartok, Beethoven, Berio, Busoni, Grainger, Lutoslawski, Krupowicz, Handel, Hummel and Beethoven.
With Jonathan Swain.
1.00am
Dukas, Paul (1865-1935): La Peri - poeme danse
Netherlands Radio Philharmonic
Jean Fournet (conductor)
1.23am
Debussy, Claude (1862-1918): Chansons de Bilitis
Jard van Nes (mezzo-soprano)
Gerard Van Blerk (piano)
1.33am
Buffardin, Pierre-Gabriel (c.1690-1768): Concerto a 5 in E minor for flute and strings
Ernst-Burghard Hilse (flute)
Musica Antiqua Koln
1.45am
Marais, Marin (1656-1728): Tombeau pour Monsieur de Lully
Ricercar Consort
Henri Ledroit (conductor)
1.53am
La Rue, Pierre de (c.1452-1518): O salutaris hostia - motet
Netherlands Chamber Choir
Paul van Nevel (conductor)
1.57am
Sweelinck, Jan Pieterszoon (1562-1621): Or est maintenant, l'eternel regnant (Psalm 99)
Netherlands Chamber Choir
Peter Phillips (conductor)
2.01am
Franck, Cesar (1822-1890): Redemption - symphonic poem, M52
Ge Neutel (soprano)
Netherlands Radio Choir
Netherlands Radio Philharmonic
Jean Fournet (conductor)
3.00am
Bartok, Bela (1881-1945): Romanian Folk Dances, Sz 68 (orch from Sz 56 - for piano)
BBC National Orchestra of Wales
James Clark (conductor)
3.08am
Beethoven, Ludwig van (1770-1827): Five Scottish and Irish Songs
Stephen Powell (tenor)
Lorraine Reinhardt (soprano)
Linda Lee Thomas (piano)
Gwen Thompson (violin)
Eugene Osadchy (cello)
Vancouver Chamber Choir
Jon Washburn (conductor)
3.22am
Berio, Luciano (1925-2003): Folk Songs for mezzo-soprano and seven players
Jard van Nes (mezzo-soprano)
Royal Concertgebouw Orchestra
Riccardo Chailly (conductor)
3.45am
Diethelm, Caspar (1926-1997): Schonster Tulipan - Suite of Variations on a Swiss Folk Song, Op 294
Sibylle Tschopp, Mirjam Tschopp (violins)
3.54am
Matton, Roger (1929-2004): L'escaouette
Adrienne Savoie (soprano)
Catherine Sevigny (mezzo-soprano)
Jean-Francois Morin (tenor)
Charles Prevost (baritone)
Ensemble Vocal Katimavik
Choeur Vaudreuil-Soulanges
Orchestre Metropolitain
Gilles Auger (conductor)
4.04am
Anon arr. Freedman, Harry (1922-2005): Two Canadian Folksongs
Phoenix Chamber Choir
Ramona Luengen (conductor)
4.09am
Trad. Catalan/Campion, Francois (c.1685-1747): El cant dels ocells; Les ramages
Zefiro Torna
Jurgen De Bruyn (renaissance guitar/director)
4.17am
Trad. Hungarian: Bride's Dance; Dances from Esztergom; Dances from Csiksomelyo
Csaba Nagy (solo recorder, tarogato)
Viktoria Herencsar (cimbalom)
Camerata Hungarica
Laszlo Czidra (conductor)
4.28am
Busoni, Ferruccio (1866-1924): 2 Finnlandische Volksweisen
Erik T Tawaststjerna, Hui-Ying Liu (pianos)
4.40am
Grainger, Percy (1882-1961): Suite on Danish Folk Songs - orchestral version
Claire Clements (piano)
Melbourne Symphony Orchestra
Geoffrey Simon (conductor)
5.00am
Moniuszko, Stanislaw (1819-1872): Mazurka (Jawnuta)
Polish Radio Symphony Orchestra
Jerzy Salwarowski (conductor)
5.06am
Lutoslawski, Witold (1913-1994): Dance Preludes
Joaquin Valdepenas (clarinet)
Patricia Parr (piano)
5.17am
Krupowicz, Stanislaw (b.1952): Miserere
5.31am
Gesualdo, Carlo (c.1561-1613): Miserere
Camerata Silesia
Anna Szostak (conductor)
5.42am
Rossini, Gioachino (1792-1868): Prelude, Theme and Variations in E for horn and piano
Mindaugas Gecevicius (horn)
Ala Bendoraitiene (piano)
5.52am
De Fesch, Willem (1687-1761): Concerto in C minor for violin and orchestra, Op 5 No 5
Manfred Kraemer (violin)
Musica ad Rhenum
6.02am
Handel, Georg Frideric (1685-1759): Trio Sonata in G, Op 5 No 4 (with viola ad-lib)
Musica Antiqua Koln
6.15am
Hummel, Johann Nepomuk (1778-1837): Trio in E flat for piano and strings, Op 12
The Hertz Trio
6.33am
Beethoven, Ludwig van (1770-1827): Symphony No 8 in F, Op 93
BBC Philharmonic
Gianandrea Noseda (conductor).