Main content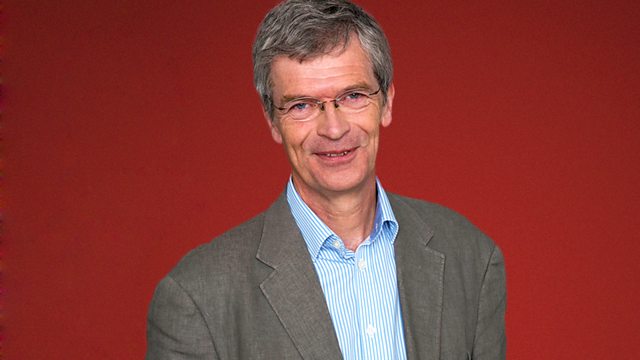 07/02/2009
Geoffrey Smith presents a selection of listeners' jazz requests. Email jazz.record.requests@bbc.co.uk.
Jazz Record Requests
Presented by Geoffrey Smith
Producer: Lara Bellini
Saturday 7 February 2009 5pm–6 pm
JRR Signature Tune:
Oh, but on the Third Day (Happy Feet Blues) (Marsalis)
Performed by Wynton Marsalis (tpt), Marcus Roberts (pno), Todd Williams (tsx), Dr Michael White (clt), Danny Barker (bjo), Teddy Riley (tpt), Freddie Lonzo (tbn), Reginald Veal (bs), Herlin Riley (dms)
Recorded 28 October 1988
Taken from the album The Majesty of the Blues
1989 CD (CBS 465129 2)
Bonaparte's Retreat (Pee Wee King) (3'13'')
Performed by Wild Bill Davison (cnt) Cutty Cutshall (tb) Peanuts Hucko (cl) Gene Schroeder (p) Ray Biondi (g) Al Hall (b) Gene Krupa (d) Booby Scoots (vcl)
Recorded NY Apr 6 1950
Taken from the album Bonaparte's Retreat / Walking with the Blues
LP (RCA RCX 1052; Side 1 / Track 1)
Spanish Shawl (Elmer Schoebel / Walter Melrose / Billy Meyers) (3'21'')
Performed by Albert Nicholas (cl) Richard M. Jones (p) Johnny St. Cyr (bj)
Recorded Chicago, Nov 6 1925
Taken from the album Richard M. Jones Three Jazz Wizards
1995 CD (Classics Classics 5826(1); Track 4)
Blues for Yolande (Coleman Hawkins) (6'44'')
Performed by Coleman Hawkins, Ben Webster (ts) Oscar Peterson (p) Herb Ellis (g) Ray Brown (b) Alvin Stoller (d)
Recorded 1957
Taken from the album Coleman Hawkins Encounters Ben Webster
CD (Verve 8231202(1); Track 1)
One O'Clock Jump (Count Basie) (6'43'')
Performed by Harry James, Ziggy Elman, Gordon "Chris" Griffin (tp) Red Ballard, Vernon Brown (tb) Benny Goodman (cl) Hymie Schertzer, George Koenig (as) Babe Russin (ts) Jess Stacy (p) Allen Reuss (g) Harry Goodman (b) Gene Krupa (d) Horace Henderson, Edgar Sampson (arr)
Recorded NY Jan 16 1938
Taken from the album The Famous 1938 Carnegie Hall Jazz Concert
1999 CD (Columbia/Legacy C2K 65143; Disc 1 / Tracks 4-5)
The Moment of Truth (T. Satterwhite / F. Scott) (2'15'')
Performed by Tony Bennett
Recorded 1960
Taken from the album The Little Boy / The Moment of Truth
LP (CBS AAG 184; Side 2)
Never Let Me Go (Raymond Evans / Jay Livingston) (7'43'')
Performed by the Keith Jarrett Trio:
Keith Jarrett (p) Gary Peacock (b) Jack DeJohnette (d)
Recorded NY Jan 1983
Taken from the album Standards, Vol. 2
1985 CD (ECM 8250152(1); Track 4)
Cheese Cake (Dexter Gordon) (6'29'')
Performed by Dexter Gordon (ts) Sonny Clark (p) Butch Warren (b) Billy Higgins (d)
Recorded NJ Aug 27 1962
Taken from the album Go
1998 CD (Blue Note 7243 4 98794 2 3; Track 1)
Everything I've Got (Richard Rodgers / Lorenz Hart) (3'20'')
Performed by Chris Connor (vcl) Joe Wilder (tp) Al Cohn (ts) Eddie Costa (vib) Ralph Sharon (p,arr) Oscar Pettiford (b) Osie Johnson (d)
Recorded NY Nov 16 1956
Taken from the album A Jazz Date with Chris Connor
1991 CD (Atlantic AMCY1072(1); Track 9)
Big "P" (Jimmy Heath) (3'53'')
Performed by Jimmy Heath's Big Band
Nat Adderley (cnt) Clark Terry (flhrn,tp) Tom McIntosh (tb) Dick Berg (fhr) Julian "Cannonball" Adderley (as) Jimmy Heath (ts) Pat Patrick (bar) Tommy Flanagan (p) Percy Heath (b) Albert "Tootie" Heath (d)
Recorded NY Jun 24 1960
Taken from the album Really Big!
LP (Riverside RLP 12-333. Side 1 / Track 1)
Wise Child (Julian Siegel) (8'05'')
Performed by Partisans:
Phil Robson (g) Julian Siegel (ts) Thaddeus Kelly (b) Gene Calderazzo (d)
Recorded 2005
Taken from the album BBC Jazz Awards 2007
CD (Specific SPEC007; Disc 1 /Track 5)
Don't forget, you can have your say on today's programme, or any aspect of jazz, by visiting the Jazz Messageboard.
The BBC is not responsible for the content of external internet sites.