Main content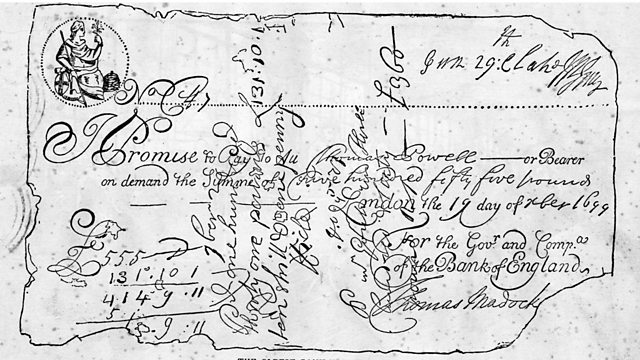 The Creation of the Bank of England
Jonathan Freedland explores the creation of the Bank of England in 1694 and the economic turmoil which led to it.
Jonathan Freedland presents the series that looks for the past behind the present.
With Britain officially entering a recession, Jonathan takes the long view of combating a credit crunch.
In 1694, the economy was in turmoil and in desperate need of new sources of revenue. The scheme that was chosen to bring in funds was the Bank of England, founded with the explicit intention to lend to the government at a reasonable rate and to keep interest rates in check. Jonathan looks at the early days of the Bank of England and asks what lessons we can learn from the financial crisis of the 1690s.
Image: The oldest known bank-note, issued by the Bank of England in 1699.
Featured in...
Currency union? Banking crisis? Jonathan Freedland shows how these have happened before.