Main content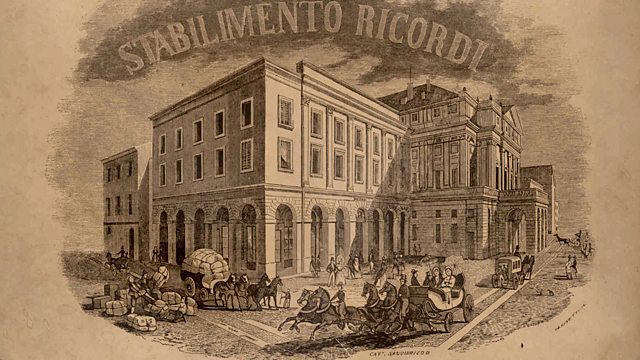 Giovanni's House
Martin Handley explores the importance of Italian music publisher Casa Ricordi. With contributions from Simonetta Puccini and Ricordi family members.
Martin Handley explores the importance of the famous Italian music publishing firm Casa Ricordi. Throughout most of the 19th and 20th centuries, the history of Italian opera was directly tied to the fortunes of this single family publishing house, based in Milan.
The company was founded in 1808 by Giovanni Ricordi, a violinist who led the orchestra in a small Milanese theatre. From very small beginnings, the business grew rapidly and in 1814 he won the exclusive right to publish all the music performed at La Scala, where he was a prompter. Ten years later he purchased the venue's entire archive, and by 1835 Ricordi boasted a catalogue of 10,000 publications. These included most of the operas of Rossini, Bellini and Donizetti.
But the company's special relationship with Verdi and Puccini was especially significant. Giovanni's grandson Giulio persuaded Verdi to come out of retirement in 1880 and later played a vital role in Puccini's artistic career, publishing all his works. Casa Ricordi was also the first to come up with the 'royalty' concept and successfully lobbied for one of the first laws to protect composers' (and publishers') copyright. But was the firm always rigorous in its production standards?
The music includes many important operas from the 19th century, including Rossini, Bellini, Verdi and Puccini. Contributors include Simonetta Puccini, Ricordi family members, Ricordi managing director Tino Cenamo, former Ricordi director of publishing Gabrielle Dotto, music historian Philip Gossett and Verdi expert Cormac Newark.
Including:
Rossini: Barber of Seville
Orchestra e Coro del Teatro alla Scala, Milano, Riccardo Chailly (conductor)
SONY S3K 37862/A-C
Verdi: Don Carlo
Orchestra e Coro del Teatro alla Scala, Milano, Riccardo Muti (conductor)
EMI CDC 7 54868-70 2
Mehul: Horatius Cocles
Orchestre de Bretagne, Stefan Sanderling (conductor)
ASV CD DCA 1140
Rossini: La Pietra del Paragone
Czech Chamber Chorus, Czech Chamber Soloists, Brno, Alessandro de Marchi (conductor)
NAXOS 8.660093-95
Bellini: Norma
Maria Callas (soprano)
Orchestra e Coro del Teatro alla Scala, Milano, Tullino Serafin (conductor)
EMI 5 56271 2
Liszt: Preludio from 12 Etudes D'Execution Transcendante
Francois-Rene Duchable
EMI 5 56684 2
Verdi: Nabucco
Orchestra e Coro del Teatro alla Scala, Milano, Claudio Abbado (conductor)
DG 413 448-2
Rossini: Bianca
Katia Ricciarelli, soprano (Bianca)
London Sinfonietta Opera Orchestra, Donato Renzetti (conductor)
RICORDI RFCD 2008
Verdi: Macbeth
New Philharmonia Orchestra, Riccardo Muti (conductor)
EMI 5 67128 2
Gounod: Romeo et Juliette
Mirella Freni, soprano (Juliette)
Orchestre du Theatre National de l'Opera de Paris, Alain Lombard (conductor)
EMI 5 65290 2
Verdi: Simon Boccanegra
Mirella Freni, soprano (Maria Boccanegra)
Coro e Orchestra del Teatro all Scala, Claudio Abbado (conductor)
DG 449 752-2
Verdi: Othello
Orchestra e Coro del Teatro alla Scala, Milano, Lorin Maazel (conductor)
EMI CDC 747450/51 2
Verdi: Falstaff
Chor Der Wiener Staatsoper, Wiener Philharmoniker, Leonard Bernstein (conductor)
CBS M2K 42535
Puccini: Madam Butterfly
Renata Tebaldi, soprano (Madama Butterfly); Carlo Bergonzi, tenor (B.F. Pinkerton)
Orchestra dell'Accademia di Santa Cecilia Roma, Tullio Serafin (conductor)
DECCA 411 635-2 & 636-2
Puccini: La Boheme
Mirella Freni, soprano (Mimi)
Schoneberger Sangerknaben, Chor der Deutschen Oper Berlin, Berlin Philharmonic, Herbert von Karajan (conductor)
DECCA 421 050-2 & 051-2
Puccini: Turandot
Mario del Monaco, tenor (Calaf)
Orchestra e coro dell'Accademia di Santa Cecilia Roma, Alberto Erede (conductor)
DECCA 433 761-2
Donizetti: L'elisir d'amore
Enrico Caruso
MCCD086
Stockhausen:Donnerstag Aus Licht
DG 423 380-2 to 383-2
Karlheinz Stockhausen (conductor)
Puccini: Madam Butterfly
Renata Tebaldi, soprano (Madama Butterfly)
Orchestra dell'Accademia di Santa Cecilia Roma, Tullio Serafin (conductor)
DECCA 411 635-2 & 636-2
Verdi: Falstaff
Chor Der Wiener Staatsoper, Wiener Philharmoniker, Leonard Bernstein (conductor)
CBS M2K 42535