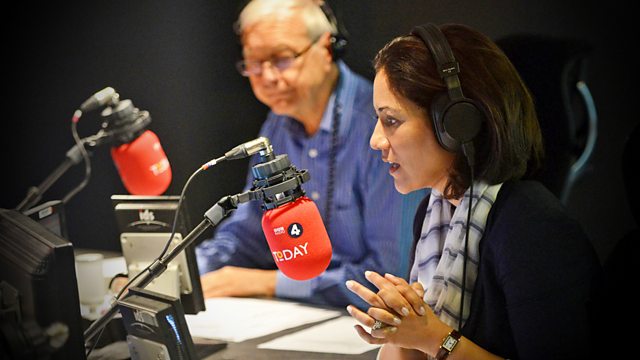 07/02/2009
Presented by Sarah Montague and Evan Davis.
Reporter Alex Bushill reports on the worst of the UK weather.
Washington correspondent Richard Lister explains how President Obama has persuaded Republican senators to approve the economic stimulus package.
Yesterday in Parliament with Mark D'Arcy.
Founder of the Pakistani nuclear programme Abdul Qadeer Khan has been released from house arrest. Gordon Correra explains the story behind the man hailed by many in Pakistan as a national hero.
Education correspondent James Westhead and Barry Sheerman MP discuss if there is sympathy for Sharon Shoesmith, the former director of children's services at Haringey Council.
Correspondent Yolande Knell discusses if progress has been made towards peace in Israel.
Monks are offering weekend courses to attract more people into monasteries. Yvonne Murray reports.
Thought for the Day with Canon Lucy Winkett.
Correspondent Rob Watson discusses the interest surrounding the US administration's first big speech on global security.
Rachel Reid says she had no relationship with the senior British officer arrested for alleged security leaks.
Iraqi Dr Sana Nimer explains what has changed in the country over the last two years.
Cllr David Sparks discusses how well councils are coping with the adverse weather conditions.
Matthew Price examines if George W. Bush will be missed by comedians.
Social worker trainer Joanna Nicolas discusses the media handling of the Baby P case.
Prof Joseph Nye discusses the first speech by US Vice-president Joe Biden on global security.
Economist Ha Joon Chang discusses positive arguments for protectionism.
Journalist AA Gill and author Wendy Moore discuss famous examples of men and women looking for money instead of love.
Last on
So you think you know the Today programme?