Main content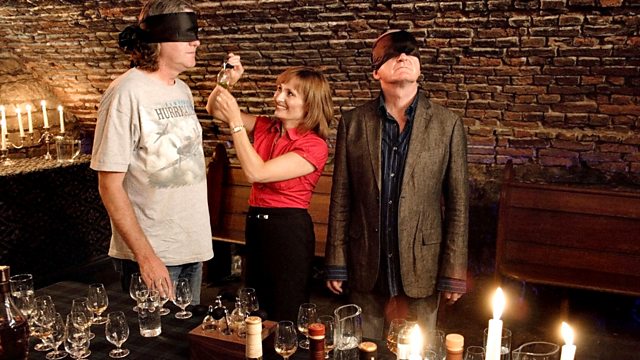 The duo travel to Scotland, where they conduct a blindfolded whisky tasting and meet some radical brewers.
Oz Clarke and James May travel through Britain and Ireland to discover the amazing array of drinks on offer for the delectation of a wine ponce and an incorrigible scruffbag.
Oz and James head for Scotland where they encounter Rachel Barrie, a self-styled high priestess of whisky, who insists that they don blindfolds for a bizarre tasting in order to fully appreciate the complexity of Scotland's national drink.
In Edinburgh's Princes Street Gardens, the pair bump into some radical brewers whose unusual beer and provocative marketing has gotten them into a lot of trouble. After sampling Scotland's national dish - a deep-fried Mars bar - the intrepid pair head for the hills to taste a delicious special beer, brewed according to an ancient recipe.
However, disaster strikes when the most vulnerable member of their party, the ancient, clapped out 1970's caravan, succumbs. Initially reluctant to abandon his precious home brew, James comes up with a plan, while Oz produces a haggis that he always keeps handy in case of emergencies.
The next day, they head for Islay, which is famous for its peaty whiskies. James conducts an unusual experiment using Scottish bio-fuel which scares the pants off Oz. Later, they visit the picturesque Bruichladdich Distillery run by Englishman Mark Reyneir, where they receive a tour of the ancient machinery and learn how whisky is made from beer. The Scottish leg of their trip concludes with the pair bravely accepting the ultimate in tasting challenges.