Main content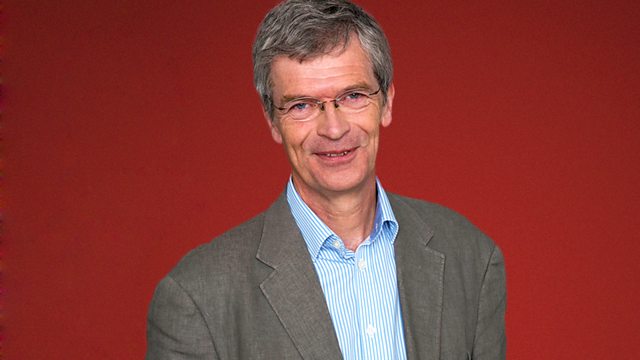 31/01/2009
Geoffrey Smith presents a selection of listeners' jazz requests.
Jazz Record Requests
Presented by Geoffrey Smith
Producer: Benedict Warren
Saturday 31 January 2009 5pm–6 pm
JRR Signature Tune:
Oh, but on the Third Day (Happy Feet Blues) (Marsalis)
Performed by Wynton Marsalis (tpt), Marcus Roberts (pno), Todd Williams (tsx), Dr Michael White (clt), Danny Barker (bjo), Teddy Riley (tpt), Freddie Lonzo (tbn), Reginald Veal (bs), Herlin Riley (dms)
Recorded 28 October 1988
Taken from the album The Majesty of the Blues
1989 CD (CBS 465129 2)
Main Stem (Duke Ellington) (2'47'')
Performed by Rex Stewart (cnt) Wallace Jones (tp) Ray Nance (tp,vln) Joe "Tricky Sam" Nanton, Lawrence Brown (tb) Juan Tizol (v-tb) Barney Bigard (cl) Johnny Hodges (as,sop) Otto Hardwick (as,bassax) Ben Webster (ts) Harry Carney (bar,cl,as) Duke Ellington (p) Fred Guy (g) Junior Raglin (b) Sonny Greer (d)
Recorded Hollywood Jun 26 1942
Taken from the album The Blanton–Webster Band
CD (BMG 74321 13181 2, D3; Track 17)
Lonesome Road (Nat Shilkret / Gene Austin) (3'00'')
Performed by Muggsy Spanier (cnt) George Brunies (tb) Rod Cless (cl) Joe Bushkin (p) Bob Casey (b) Nick Caiazza (ts) Al Sidell (d)
Recorded NY, Dec 12 1939
Taken from the album Great Original Performances 1931 & 1939
CD (Jazz Classics RPCD 609; Track 13)
It Was a Lover and His Lass (3'51'')
Performed by Maxine Sullivan (vcl) Rusty Dedrick (tp) Dick Hyman (p) Bucky Pizzarelli (g) Milt Hinton (b) Don Lamond (d)
Recorded NY, Jun 15,29,29 1971
Taken from the album Sullivan-Shakespeare
CD (Audiophile ACD250(1); Track 10/11)
Hot Mallets (Lionel Hampton) (2'11'')
Performed by Dizzy Gillespie (tp) Benny Carter (as,arr) Coleman Hawkins, Chu Berry, Ben Webster (ts) Lionel Hampton (vib) Clyde Hart (p) Charlie Christian (g) Milt Hinton (b) Cozy Cole (d)
Recorded NY, Sep 11 1939
Taken from the album Lionel Hampton and His Orchestra
CD (Flapper PASTCD 9789 (1); Track 4)
New Time Shuffle (Joe Sample) (4'44'')
Performed by Jazz Crusaders:
Wayne Henderson (tb) Wilton Felder (ts) Joe Sample (p) Victor Gaskin (b) Stix Hooper (d)
Recorded Feb 1965
Taken from the album The Thing
LP (Fontana 688 149 ZL; Side 2 / Track 1)
Autumn Leaves (Joseph Kosma / Johnny Mercer / Jacques Prevert) (5'30'')
Performed by Sarah Vaughan (vcl) Sir Roland Hanna (p) Joe Pass (g) Andy Simpkins (b) Harold Jones (d)
Recorded Hollywood, Mar 1 & 2 1982
Taken from the album Crazy and Mixed Up
CD (Verve 549 088-2; Track 15)
Joy Spring (Clifford Brown) (6'47'')
Performed by Clifford Brown (tp) Harold Land (ts) Richie Powell (p) George Morrow (b) Max Roach (d)
Recorded LA Aug 6 1954
Taken from the album Finest Hour
CD (Verve 543 602-2; Track 8)
Bill Evans (Lyle Mays) (4'43'')
Performed by Lyle Mays (p) Marc Johnson (b) Jack DeJohnette (d)
Recorded NY Apr 23 1992
Taken from the album Fictionary
CD (Geffen GED 24521 (1); Track 1)
Duncan's (Dave Milligan) (4'46'')
Performed by Dave Milligan (p) Tom Lyne (b) Tom Bancroft (d)
Recorded 2008
Taken from the album Shops
CD (TRCD0025. Track 1)
100% Proof (Tubby Hayes) (14'00'')
Performed by Kenny Baker, Greg Bowen, Les Condon, Kenny Wheeler (tp) Ian Hamer (arr) Keith Christie, Nat Peck, John Marshall, Chris Smith (tb) Roy Willox, Ray Warleigh (as,fl) Ronnie Scott (ts,fl) Tubby Hayes (arr) Bob Efford (ts,oboe,fl,b-cl) Harry Klein (bar) Gordon Beck (p), Jeff Clyne (b) Johnny Butts (d)
Recorded London May 13 1966
Taken from the album 100% Proof
LP (Fontana TL 5410; Side 1 /Track 1)
Don't forget, you can have your say on today's programme, or any aspect of jazz, by visiting the Jazz Messageboard.
The BBC is not responsible for the content of external internet sites.