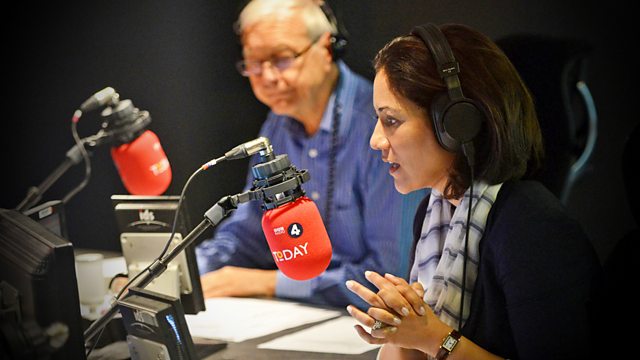 30/01/2009
Presented by Sarah Montague and Edward Stourton.
Workers at Honda's UK base and Collette Hume discuss the four month closure of the plant.
Consultant haematologist Dr Steve Schey says a new drug extends the life of patients by three years.
Nicola Stanbridge visits the lighthouse in Cumbria that composer Ailis Ni Riain has turned into a piece of performance art.
Business editor Robert Peston reports from the World Economic Summit.
Media expert Peter Bazalgette discusses what will be watched on television and computer screens in three years' time.
The Sri Lankan army is pressing ahead with its advance against the Tamil Tigers. Chris Morris reports.
Hospital managers want to exorcise a spirit in a Derby hospital, the Sun reports. Benedictine monk Dom Anthony Sutch explains how one would carry out an exorcism.
Thought for the day with the Right Reverend Lord Harries of Pentregarth.
Evan Davis talks to HSBC head Stephen Green about the future of globalised banking.
Derek Simpson, of Unite, says that some sub-contractors will not consider employing UK workers under any circumstances.
Authors William Boyd and A.L. Kennedy discuss the concept of the flawed literary masterpiece.
Sir Christopher Frayling discusses his time as chairman of the Arts Council and his valedictory lecture at the Royal Institute of Architects.
Alastair Kirkwood, managing director of NFL UK, and Stefan Szymanski, professor of economics at Cass Business School, discuss if big sporting events offer anything more than light relief from the doom and gloom of the economy.
Correspondent David McMillan and Scotland correspondent Colin Blane explain the current tension in workforces around the country.
Last on
So you think you know the Today programme?