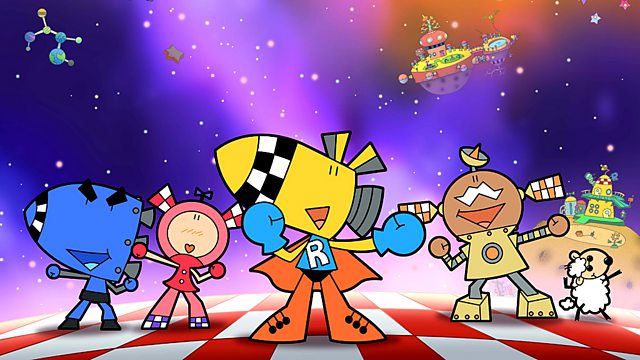 Rocket Boy and Toro is a high speed, action packed, comedy space adventure for 6 to 8 year-olds. Working at Grandpa Sat's delivery service with Chrystella the mission controller and Vector the engineer, Rocket Boy is the speediest delivery boy in the entire Universe.
With his trusty guard sheep Toro at his side he must outwit his mortal enemy, the evil supercomputer Dr Square and his henchbot Trash who are desperate to discover the secret of his speed, even if it means taking him apart to get it! Being a delivery boy has never been so exciting or so much fun!
Rocket Boy and the gang spot a distress flare from a ship in deep space telescope. Chrystella thinks it's a firework but they're convinced it's a flare so they all set off to investigate. Dr Square spots the ship too, and the fact that it has a near-mythical hyper drive engine. With one of those he wouldn't need Rocket Boy's speed, so he sends Trash to steal it.
When Rocket Boy and friends arrive they find a spooky empty ship. Suddenly they're confronted by a ferocious alien. They escape only to fall into a chamber full of alien cocoons which suddenly start to hatch. Trash appears at the door, tells them about the engine and reckons they're about to become dinner!
The big alien comes in but instead of eating them, it puffs a party blower. Huh? Turns out she's a mummy out here to have a good old fashioned birthday party for her kids. The gang are relieved but Rocket Boy remembers Trash. Luckily he stops him stealing the engine and brings him to alien mummy to suffer his fate. He must play blind man's buff with the alien kids all day long!
Last on