Main content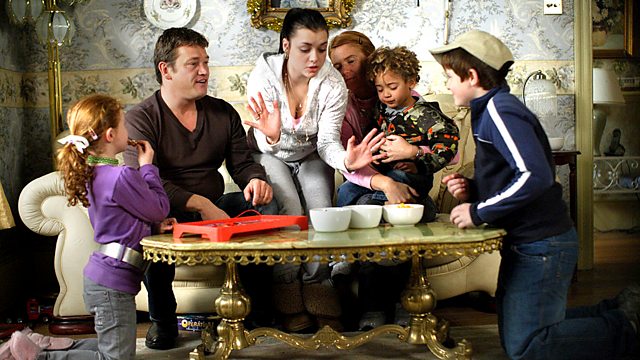 01/01/2009
Sean contacts Roxy and Stacey as the new year dawns, but what is he planning? Meanwhile Ricky tries to bring new year cheer to Bianca's brood, and Danielle betrays Stacey.
New Years Day. Sean drives off with Amy in a stolen car. He takes a picture of Amy on his phone and sends it to Roxy. She calls him and begs him to come back, but he says he doesn't know how. A police car stops nearby, and Sean prays for a few more days as Amy's dad: The police car drives on. Ronnie asks Jack to sell his part of the club to her. Jack refuses, he still thinks they have a future together, Ronnie disagrees. Stacey sees Danielle give the defaced photo of the Mitchells to Ronnie and is angry. Ronnie takes the photo to Peggy and fearing that Sean plans to come back to the pub, Peggy decides to open up. Sean phones Stacey and asks her to meet him. Stacey tells Sean to go to the police and explain why he took Amy. Sean wants to keep running, but asks Stacey to look after Amy for a while. Stacey gives Amy back to the Mitchells. They are ecstatic, but Stacey feels guilty for betraying Sean. Sean arrives at the Slaters' and says a tearful goodbye to Stacey, it's time he went to meet their father...
Tiffany wants Whitney to come out of her room, she misses her. Ricky tries to cheer up Whitney by making the family play board games. Whitney is not impressed and goes out.
Shirley and Heather have had a disappointing New Years Eve, so Shirley plans to entice lots of men into the Vic. Heather ends up surrounded by men, looking very pleased with herself.
Mo unwraps Charlie's present for Brenda, saying that Charlie has hardly seen her over Christmas. Charlie is angry and defends Brenda claiming she has just been busy with the Salvation Army.
Credits
| Role | Contributor |
| --- | --- |
| Stacey Branning | Lacey Turner |
| Sean Slater | Robert Kazinsky |
| Roxy Slater | Rita Simons |
| Jean Slater | Gillian Wright |
| Ronnie Mitchell | Samantha Womack |
| Danielle Jones | Lauren Crace |
| Jack Branning | Scott Maslen |
| Archie Mitchell | Larry Lamb |
| Peggy Mitchell | Barbara Windsor |
| Shirley Carter | Linda Henry |
| Heather Trott | Cheryl Fergison |
| Mo Harris | Laila Morse |
| Charlie Slater | Derek Martin |
| Bianca Jackson | Patsy Palmer |
| Ricky Butcher | Sid Owen |
| Janine Butcher | Charlie Brooks |
| Whitney Dean | Shona McGarty |
| Liam Butcher | James Forde |
| Tiffany Dean | Maisie Smith |
| Carouser | Marc Baylis |
| Writer | Jeff Povey |
| Producer | Diederick Santer |