Main content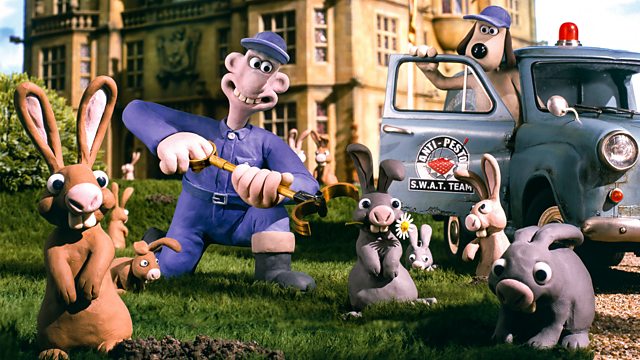 Wallace and Gromit in The Curse of the Were-Rabbit
Claymation featuring the voice of Peter Sallis. Wallace and Gromit's pest control business is called into action when a giant rabbit terrorises their town's vegetable patches.
Oscar-winning claymation about the chase for a giant rabbit terrorising a town's allotments and vegetable patches days before the annual vegetable-growing competition.
As Wallace and his trusty companion are called into action with their pest control business, a dastardly Lord Victor Quartermaine competes to capture the Were-Rabbit and win the heart of a beautiful lady.
How long is Wallace and Gromit in The Curse of the Were-Rabbit available on BBC iPlayer?
This programme is only on BBC iPlayer for 7 days after broadcast. We always aim to offer our programmes to stream for 30 days; however for a number of reasons including technical problems, legal or contractual issues this isn't always possible.
Review: The Curse of the Were-Rabbit
Credits
| Role | Contributor |
| --- | --- |
| Director | Steve Box |
| Director | Nick Park |
| Wallace/Hutch | Peter Sallis |
| Victor Quartermaine | Ralph Fiennes |
| Lady Campanula Tottington | Helena Bonham Carter |
| PC Mackintosh | Peter Kay |
| Reverend Clement Hedges | Nicholas Smith |
| Mrs Mulch | Liz Smith |
| Mr Windfall | John Thomson |
| Miss Blight | Mark Gatiss |
| Mr Caliche | Vincent Ebrahim |
| Miss Thripp | Geraldine McEwan |
| Mr Growbag | Edward Kelsey |
| Mr Mulch | Dicken Ashworth |
| Writer | Nick Park |
| Writer | Steve Box |
| Writer | Mark Burton |
| Writer | Bob Baker |
Broadcasts