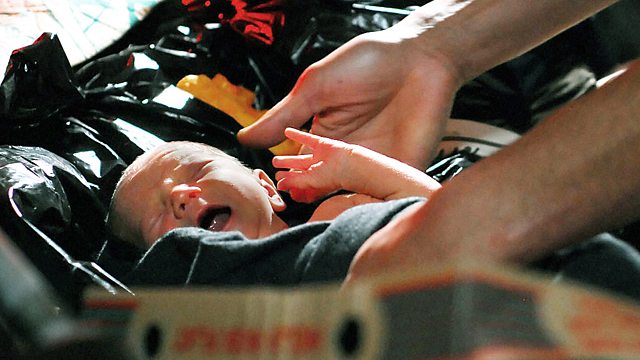 Dustbin Baby
Moving family drama, based on Jacqueline Wilson's novel, following the story of a teenager who sets out to discover her origins and, along the way, discovers where she belongs.
Having been left in a dustbin as a baby, the 14-year-old walks out on her foster mother following a row and determines to discover her past. As her foster mother searches frantically for her, their journeys take them on a course that will change their lives forever.
While young April goes back into the world foster care, remembering and revisiting the people who shaped her life, her foster mother tries to understand where she went wrong and finally goes in search of the dustbin where the baby was found 14 years before.
Credits
| Role | Contributor |
| --- | --- |
| Marion Bean | Juliet Stevenson |
| Cathy | Saffron Coomber |
| Hannah | Poppy Lee Friar |
| Sandra | Jenna Boyd |
| Elliot | David Haig |
| Pat Williams | Di Botcher |
| Little April | Lucy Hutchinson |
| Daniel Johnson | Ian Kelsey |
| Janet Johnson | Carol Starks |
| Mrs Stevenson | Jane McDowell |
| Mr Stevenson | Simon Roberts |
| Policewoman | Joanna Dunn |
| Stranger | Ben McKay |
| Police Officer | Peter Bramhill |
| Frankie | Chris Ryman |
| Hoody Boy | Elijah Baker |
| Big Mo | Nicola Duffett |
| Little Pete | Tat Whalley |
| Robbie | Louis Payne |
| Asif | Waleed Akhtar |
| Railway Woman | Chizzy Akudolu |
| Author | Jacqueline Wilson |
| Writer | Helen Blakeman |