Main content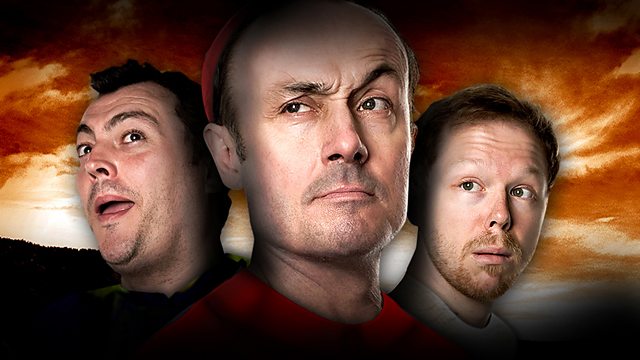 Houston We Have an Problemme
Henry hits puberty, De Warrenne hits a planning official, and Sam goes off like a rocket. Stars James Fleet. From January 2009.
Hie ye to "The Castle", a rollicking sitcom set way back then, starring James Fleet ("The Vicar Of Dibley", "Four Weddings & A Funeral") and Neil Dudgeon ("Life Of Riley")
In this episode Master Henry hits puberty, Lady Anne & Charlotte hit the bar, De Warrenne hits a Planning Official and Sam Tree goes off like a rocket...
Cast:
Sir John Woodstock ..... James Fleet
Sir William De Warenne ..... Neil Dudgeon
Lady Anne Woodstock ..... Montserrat Lombard
Cardinal Duncan..... Jonathan Kydd
Lady Charlotte ..... Ingrid Oliver
Master Henry Woodstock ..... Steven Kynman
Merlin ..... Lewis Macleod
Written by Kim Fuller with additional material by Paul Alexander
Music by Guy Jackson
Now prithee pay heed to the rest of our cast of high and low lives - as we explain exactly Who's Who in The Castle -
Sir John Woodstock (James Fleet) - the Lord of the Castle and basically in charge of keeping order in the ramshackle medieval village. Although he hates all that torturing and usually lets the peasants off with a bit of community service. He lives in his huge but slightly falling down castle (but then it was built by the French so what can one expect) with his daughter Anne (Montserrat Lombard) and very teenage son Henry (Steven Kynman). Anne's best friend Charlotte (Ingrid Oliver) nearly always joins Anne on her constant quest to find fit men in the village. In fact, they think they've found a decent one in the shape of Merlin, the new handyman and wayward wizard (Lewis Macleod). And Anne certainly isn't interested in Sir William De Warenne ("Knight errant, scourge of the Levant") (Neil Dudgeon) who lives across the way.
Unfortunately he can't take a hint and is besotted with Lady Anne and Sir John thinks it a good match. Ah! what is a Lady to do! Cardinal Duncan (Jonathan Kydd) (a man of the cloth - in particular crushed silk which he loves), has to endure De Warenne's incessant plans to woo Lady Anne and has little time to peruse sweethearts of his own. Which oddly enough, he doesn't seem to mind...
Producer/Director: David Tyler
A Pozzitive production for BBC Radio 4.
More episodes
Previous
You are at the first episode