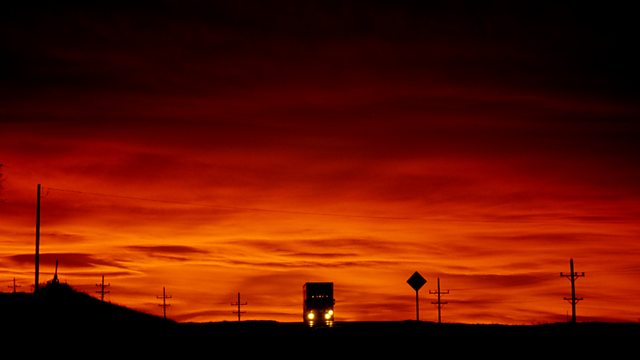 15/12/2008
With Jonathan Swain.
1.35am
Scarlatti, Alessandro (1660-1725): Cinque Profeti - Christmas Cantata
Daniel ...... Barbara Schlick (soprano)
Ezechielle ...... Heike Hallaschka (soprano)
Daniel ...... Kai Wessel (alto)
Isaia ...... Christoph Pregardien (tenor)
Abramo ...... Michael Schopper (bass)
La Stagione
Michael Schneider (director)
2.37am
Brahms, Johannes (1833-1897): Sextet in B flat, Op 18 - arr. Agnieszka Duczmal
The Amadeus Polish Radio Chamber Orchestra in Poznan
Agnieszka Duczmal (conductor)
3.15am
Anon, Croatian 18th century: Sonata in G; Sonata in C; Pastorella in G (for organ); Sonata in G; Pastorella in D; Aria in D (for trumpet and organ)
Stanko Arnold (trumpet)
Ljerka Ocic (organ)
3.29am
Kreisler, Fritz (1875-1962): String Quartet in A minor
Orford String Quartet
4.00am
Bach: Sonata in G for flute, violin and bass continuo, BWV525
Musica Petropolitana
4.11am
Kunzen, Friedrich Ludwig Aemilius (1761-1817): Symphony in G minor
Danish Radio Concert Orchestra
Peter Marschik (conductor)
4.31am
Poulenc, Francis (1899-1963): Les Biches - suite
Royal Concertgebouw Orchestra
Bernard Haitink (conductor)
4.51am
Daquin, Louis-Claude (1694-1772): Noel No 2 en dialogue, duo et trio (Or dites-nous Marie)
Hans van Nieuwkoop (organ)
5.00am
Enescu, George (1881-1955): Romanian Rhapsody No 1 in A, Op 11
Romanian National Radio Orchestra
Horia Andreescu (conductor)
5.12am
Sibelius, Jean (1865-1957): Music to a Scene
Finnish Radio Symphony Orchestra
Jukka-Pekka Saraste (conductor)
5.18am
Leontovitch, Mykola (1877-1921) arr. Howard Cable: Carol of the Bells
Kountz, arr. Howard Cable: The Sleigh a la Russe
The Toronto Children's Chorus
Members of the Toronto Symphony Orchestra
Judy Loman (harp)
Jean Ashworth Bartle (conductor)
5.22am
Trad. German arr. John Rutter (b.1945): Still, still, still (German carol)
Toronto Mendelssohn Youth Choir
John Rutter (conductor)
5.24am
Svendsen, Johan (1840-1911): Symphony No 2 in B flat
Oslo Philharmonic Orchestra
Eivind Aadland (conductor)
6.00am
Williamson, Malcolm (1931-2003): This Christmas Night
Sydney Philharmonia Motet Choir
David Miller (piano)
Antony Walker (conductor)
6.03am
Vivaldi, Antonio (1678-1741): Concerto in G minor for two cellos and orchestra, RV531
Maris Villeruss, Leons Veldre (cellos)
Peteris Plakidis (harpsichord)
Latvian Philharmony Chamber Orchestra
Tovijs Lifsics (conductor)
6.16am
Grieg, Edvard (1843-1907): Two Lyric Pieces: Evening in the Mountains, Op 68 No 4; At the cradle, Op 68 No 5
CBC Vancouver Orchestra
Mario Bernardi (conductor)
6.24am
Bach, Johann Sebastian (1685-1750): Four Chorales from the Schemelli collection
Bernarda Fink (mezzo soprano)
Domen Marincic (gamba)
Dalibor Miklavcic (organ)
6.33am
Faure, Gabriel (1845-1924): Pavane for orchestra, Op 50
BBC National Orchestra of Wales
Grant Llewellyn (conductor)
6.41am
Dvorak, Antonin (1841-1904): Prague Waltzes (Prazske valciky), B99
Slovak Radio Symphony Orchestra Bratislava
Stefan Robl (conductor)
6.49am
Debussy, Claude (1862-1918): La plus que lente
Roger Woodward (piano)
6.53am
Debussy, Claude (1862-1918), orch. Ravel: Danse (Tarantelle styrienne)
Winnipeg Symphony Orchestra
Kazuhiro Koizumi (conductor).
Last on