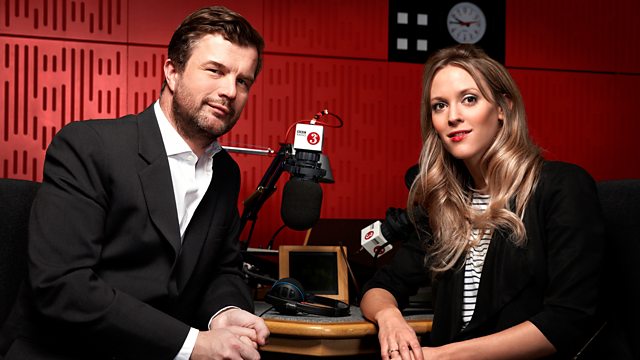 Sara Mohr-Pietsch
With Sara Mohr-Pietsch.
07:03
ANONYMOUS
Polonaise for keyboard in D minor attrib. J S Bach (as BWV.A.128) (no.24 in Anna Magdalena Notebook)
Michael Behringer, harpsichord
HANSSLER CLASSICS 92136 CD.2 Tr.6
07:05
GRIEG
Sigurd Jorsalfar suite (Op.56) - Hommage march
Royal Stockholm Philharmonic Orchestra
Gennady Rozhdestvensky
CHANDOS CHAN 9113 Tr.13
07:14
BAZZINI
La Ronde des lutins
Maxim Vengerov, violin
Vag Papian, piano
Virtuosi
EMI 5 57164 2 Tr.12
07:20
DURUFLE
4 Motets sur des themes gregoriens for a capella choir (Op.10)
Corydon Singers
HYPERION CDA66191 Tr.10-13
07:32
BEETHOVEN
Ruins of Athens Op.113 - Overture; Turkish March
Swedish Chamber Orchestra
Thomas Dausgaard, conductor
SIMAX PSC 1282 Tr.8-9
07:39
SCARLATTI
Sonata in C major Kk 513
Andras Schiff, piano
DECCA 421 422-2 Tr.2
07:46
STRAVINSKY
Chanson Russe (Mavra)
Mstislav Rostropovich, cello
Alexander Dedyukhin, piano
EMI 5 62996 2 CD.2 Tr.8
07:50
TELMANN
Quartet in E Minor (Tafelmusik)
Hortus Musicus
FINLANDIA 4509 95578-2 T7 - 10
08:03
BACH
Ach, nun ist mein Jesus hin! aria from St Matthew Passion, BWV 244
Kai Wessel, alto
Amsterdam Baroque Orchestra
Ton Koopman
ERATO 2292 45814 2 CD.2 Tr.1
08:08
MOZART
Piano Concerto No.9 K271 (Jeunehomme) - 3rd mvt
Alfred Brendel, piano
Scottish Chamber Orchestra
Charles Mackerras
PHILIPS 470 287-2 Tr.3
08:19
SCHUBERT
Schwanengesang (D.957) no.14 Die Taubenpost
Thomas Quasthoff, baritone
Justus Zeyen, piano
DG 471 030-2 Tr.14
08:23
STRADELLA
Sinfonia in D major from 'Il barcheggio'
Crispin Steele Perkins, trumpet
The Parley of Instruments
Peter Holman, organ
HYPERION CDA67359 Tr.21-24
08:32
LISZT
Hungarian Rhapsody No.5
Berlin Philharmonic
Herbert von Karajan
DG413 587-2
08:44
BRITTEN
A Hymn to the Virgin
Choir of St John's College, Cambridge
Christopher Robinson, director
NAXOS 8.554791 Tr.12
08:50
LULLY
Chaconne from Amadis
Andrew Lawrence King, Baroque triple harp
HARMONIA MUNDI HMU 907335 Tr.23
09:00
GRAINGER
The Gum-Sucker's March (In a Nutshell Suite)
BBC Philharmonic Orchestra
Richard Hickox (conductor)
CHANDOS CHAN 9493 T14
09:05
MOZART
Sonata for violin and keyboard (K.305) in A major
Rachel Podger, violin
Gary Cooper, fortepiano
CHANNEL CLASSICS CCS SA 25608 Tr.1-2
09:22
DEBUSSY
Gigues (Images)
Royal Concertgebouw Orchestra
Bernard Haitink (conductor)
PHILIPS 438 742-2 D1 T2
09:30
ANON
Quanno nascete ninno
Members of the Taverner Players
Andrew Parrott (conductor)
EMI CDC7 49809-2 T15
09:33
* PART
Spiegel im Spiegel arr. unknown for cello and piano
Dietmar Schwalke, cello
Alexander Malter, piano
ECM NEW SERIES 1591 449 985-2 Tr.3
09:43
* RIMSKY-KORSAKOV
Concerto for piano and orchestra (Op.30) in C sharp minor
Malaysian Philharmonic Orchestra
Kees Bakels, conductor
BIS-CD-1387 Tr.6
09:57
Elizabeth POSTON
Jesus Christ the Apple Tree
The Cambridge Singers
John Rutter (conductor)
COLLEGIUM COLCD 107 T22.
Last on