Main content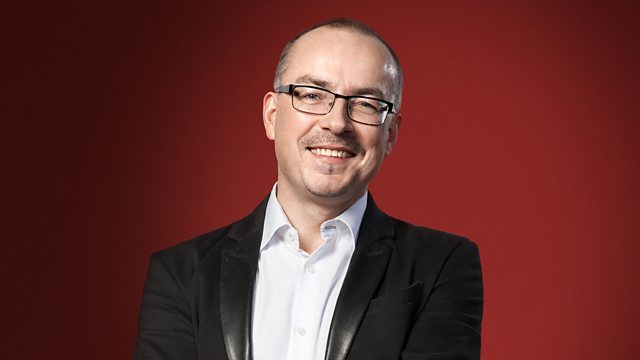 Building a Library: DEBUSSY: La Mer
With Andrew McGregor. Includes Building a Library: Debussy: La mer; Music from the Borel Manuscript; Italian avant garde music; Disc of the Week: Berg: Marsch (3 Orchestral Pieces).
Andrew McGregor introduces Radio 3's weekly programme devoted to all that's new in the world of recorded music.
Building a Library:
DEBUSSY: La Mer*
Reviewer - William Mival
First choice:
(c/w Prelude de l'apres did, Nocturnes, La Mer, Valse, Iberia)
Concertgebouw Orchestra, Bernard Haitink
Philips 50 4646972(CD – Mid Price)
(c/w Berceuse héroique; Images for Orchestra; Prélude à l'après-midi d'un faune; Première Rhapsodie; Danses for Harp and Orchestra)
Royal Concertgebouw Orchestra*, Vera Badings (harp), George Pieterson (clarinet), Eduard van Beinum (conductor), Bernard Haitink (conductor)*
Philips 438 7422 (2 CDs, Budget)
CD Review BAL Catalogue Data
bal.debussy:
bal.debussy.la.mer
09.05am
DEBUSSY: Quartet in G minor; FAURE: Quartet in E minor, Op.12; RAVEL: Quartet in F major
Quatuor Ebene
Virgin Classics 50999 519045 2 4 (CD)
BRAHMS: String Quartets in B flat major Op.67 and C minor Op.51 No.1
Takacs Quartet
Hyperion CDA 67552 (CD)
BRAHMS: Piano Quartets No.1 in G minor, Op.25; No.3 in C minor, Op.60
The Nash Ensemble
ONYX 4029 (CD)
FRANCK: Piano Quintet in F minor; String Quartet in D
Artur Pizarro (piano); Peterson Quartett
Phoenix Edition 142 (CD)
09.30 am
Building a Library Recommendation
Debussy: La Mer*
Reviewer – William Mival
Next week Jeremy Summerly examines recordings of Herbert Howells' Requiem.
10.25 a.m. Interview with Davitt Moroney
Harpsichordist and scholar Davitt Moroney talks about his recent recordings of music from the Borel Manuscript, a collection of over a hundred diverse works put together in late seventeenth century France.
Davitt Moroney plays harpsichords by Nicolas Dumont 1707, and Ioannes Ruckers, 1635
D'ANGLEBERT: Courante; Gigue
LA COMTESSE DE BIEULE: Courante
LA BARRE: Allemande
CHAMBONIERRES: O beau jardin Sarabande
(c/w Pieces by D'ANGLEBERT, THOMELIN; ANON; LA BARRE; BROCHARD; L. COUPERIN; DUMONT; BOUART; D LORENCY; RICHARD; ROSSI
From disc Le Clavecin Francais - Music from the Borel Manuscript
PLECTRA PL20801 (2 CDs)
10.55 Requests/New Releases
11.20 Italian Avant Garde New Releases
John Fallas looks at some recent recordings of music by Italian Avant Garde composers. With excerpts from the following:
GIACINTO SCELSI: Trilogia, I tre stadi dell'uomo Triphon (l956); Dithome (l956-57); Ygghur (l965) Arne Deforce (cello)
Aeon AECD 0748 (CD)
GIACINTO SCELSI: Musica Viva 17
Chukrum* (l963); Quattro Pezzi (l959); Natura Renovatur (l967); Hymnos for organ and two orchestral groups (l963)
Elisabeth Zawadke (organ); Bayerischen Rundfunks Symphony Orchestra; Peter Rundel * and Hans Zender (conductors)
NEOS 10722 (CD)
SALVATORE SCIARRINO: Variazioni for cello and orchestra (l974); Allegoria della notte for violin and orchestra (l985) ; Frammento e Adagio for flute and orchestra (l991); Morte di Borromoni for orchestra and speaker (1988); I fuochi oltre la ragione; Recitativo oscuro for piano and orchestra (l999); Il suono e il tacere (2004); Shadow of sound (2005)
Francesco Dillon (cello); Marco Rogliano (violin); Mario Caroli (flute); Moni Ovadia (speaker); Orchestra Sinfonica Nazionale della RAI; Tito Ceccherini (conductor)
KAIROS 0012802KAI (CD)
STEFANO GERVASONI: Antiterra
Least Bee on texts by Emily Dickinson (version 11)(2003); An – Quasi una serenata con la complicita di Schubert (l989) Animato (l992); Antiterra (1999); Epicadenza (2004); Godspell on texts by Philip Levine (2002)
Barbara Zanichelli (soprano), Silvana Torto (mezzo soprano), Francois Volpe (percussion), Luigi Gaggero (cimbalom); Ensemble Mdi, Yoichi Sugiyama (direction)
Aeon AECD 0866 (CD)
11.45am Disc of the Week
BERG: Marsch from Three Orchestral Pieces Op. 6; BERG Rondo (Andante and Hymn) from Symphonic Fragments from Lulu
Royal Concertgebouw Orchestra, Daniele Gatti (conductor)
RCO Live RCO08004 (Hybrid SACD)
Last on