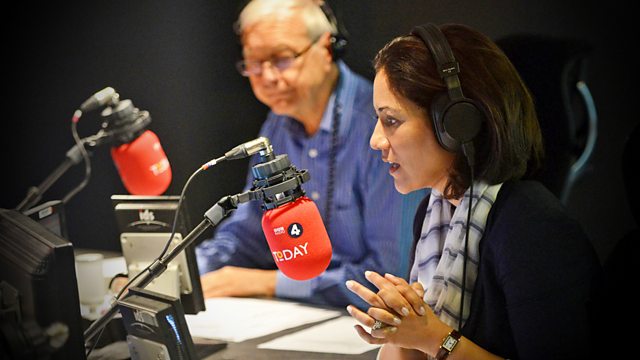 11/10/2008
Presented by John Humphrys and Edward Stourton.
Joe Lynam reports on how the G7 is working to stabilise the world's panic-stricken markets.
Steve Chittenden reports on how the Republican vice presidential candidate Sarah Palin has been found guilty of an abuse of power by an official inquiry in Alaska.
Dr Lee Elliot Major explains how grammar and faith schools have fewer children from poor families.
Credit default swaps are the next economic problem on the horizon. Analyst Marcus Schüler explains their importance.
Michael White, the assistant editor of the Guardian, looks at the history of political food.
Thought for the Day with Rev Roy Jenkins, baptist minister in Cardiff.
Rebecca Jones talks to Booker Prize nominee Amitav Ghosh, author of Sea of Poppies, a historical novel set in the mid-19th century just before the First Opium War between Britain and China.
NATO has agreed that its troops will be allowed to attack opium factories in Afghanistan for the first time, in an attempt to stop drugs financing the Taleban. David Loyn reports on the move.
Robert Peston and Steven Bell, chief economist at GLC hedge fund, discuss proposals to tackle the global financial crisis.
Ivan Moore, an independent pollster based in Anchorage, evaluates Sarah Palin's chances in the US election.
Science reporter Tom Feilden reports on the Turing Test.
Bethany Bell reports on the death of the far-right Austrian politician Joerg Haider.
What would a map of the world look like if it were drawn not according to its size and geography but according to its population, wealth or even health?
Psychologist Oliver James and historian Dominic Sandbrook discuss the effect that the credit crunch has on our lives.
Last on
So you think you know the Today programme?