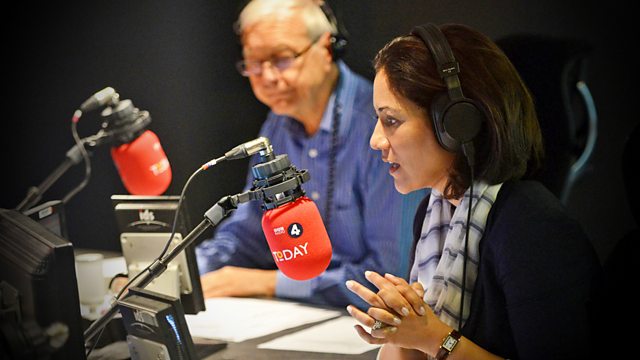 06/10/2008
Presented by Evan Davis and Sarah Montague.
Hugh Pym and Wolfram Schrettl of the DIW Institute in Berlin discuss the impact of the global financial in Iceland and Germany.
Professor Lee Bridges says that the government has undermined the right of all suspects to consult a solicitor of their choice.
Cindy Butts of the Metropolitan Police Authority discusses the progression of black and ethnic minority candidates through the police ranks.
Chris Keates of NASUWT and Michelle Elliott of children's charity Kidscape discuss teachers' affairs with pupils.
Holly Woodlawn, one of Andy Warhol's film stars, discusses a major retrospective of his work.
Thought for the Day with Canon Dr Alan Billings, an Anglican priest.
Alfred John of the Met branch of the Black Police Association and Martin Tiplady, Director of Human Resources at the Met, discuss the career possibilities of black and ethnic minority candidates.
Treasury Secretary Yvette Cooper discusses whether we are currently experiencing 'boom and bust' economics.
Author Chuck Korr and Anthony Suez, a former prisoner on Robben Island, discuss how league football was played despite regular torture and beatings.
Author of the Stern Review, Lord Nicholas Stern, discusses 'a global deal for climate change'.
Raymond Buchanan reports on the words of Shakespeare put to the musical techniques of the Beatles.
Lord Digby Jones and Richard Portes of the London Business School discuss the role of the new National Economic Council.
Professor Mike Dunne, from the Central Laser Facility at the Rutherford Appleton Laboratory, discusses nuclear fusion.
Lawrence Sherman, Professor of Criminology at Cambridge University, discusses whether policing in London is similar to that in New York.
Last on
So you think you know the Today programme?