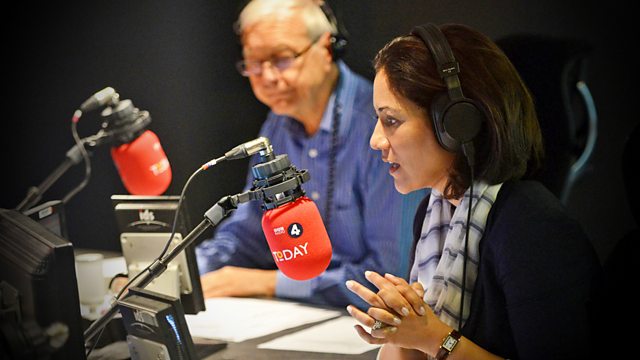 08/10/2008
Presented by Sarah Montague and John Humphrys.
Sir George Cox, former Senior Independent Director of Bradford and Bingley, discusses the government's 50 billion-pound rescue plan for British banks.
Professor Anthony Glees says that a 'tool kit for schools on preventing extremism' warps cultural values.
Dr David Dennis says that his company will give GM technology to the poorest farmers in Africa for free.
Business Editor Robert Peston looks at the scale of the banking bail-out plan.
Terry Smith, chief executive of money brokers Tullett Prebon, and Hugh Osmond, director of life insurance firm Pearl Group, discuss whether the bail-out plan will work.
Rebecca Jones talks to Linda Grant, author of The Clothes on Their Backs.
Thought for the Day with the Right Rev James Jones, Bishop of Liverpool.
Shadow Chancellor George Osborne gives his opinion on the rescue plan and discusses whether Alistair Darling had any other option.
Chancellor Alistair Darling discusses what controls will be put in place to ensure that taxpayers' money will be as safe as possible.
Justin Webb reports from the 'spin room' behind the scenes at the US presidential debate.
Howard Davies, director of the London School of Economics, and Political Editor Nick Robinson discuss the bail-out plan.
Mark Doyle reports on the 10th anniversary of the International Criminal Court and ICC Chief Prosecutor Luis Moreno-Ocampo discusses the future of international justice.
Historian Christy Campbell discusses Len Smith's wartime sketches of the enemy with his nephew Dave Mason.
Former Chancellor Lord Lamont and Jon Moulton, Managing Partner of Alchemy Group, discuss the details of Alistair Darling's proposals.
Last on
So you think you know the Today programme?