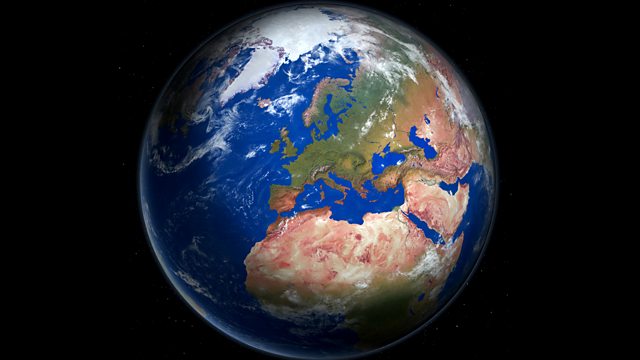 Charlie Gillett
DJ Charlie Gillett with tracks from around the world including Orchestra Baobab recorded on the Radio 3 Stage at this year's WOMAD festival. Plus a visit to the World on 3 studio by Massukos from northern Mozambique.
Massukos are superstars in their home country of Mozambique. Their debut album 'Kuimba kwa Massuko' sold huge quantities, was voted best album in 2002 and won a gold disc in 2003. Several more awards followed and Massukos are now considered Mozambique's most successful band.
But they also use their high profile to initiate social change. Throughout their career they have been undertaking humanitarian work and have been promoting awareness about the lack of life's basic necessities in their own country. In 2004 for instance, they appeared at the Third World Water Forum in Japan and toured Mozambique with the UK band Empty Boat as part of an awareness-raising event organized by Poo Productions in association with WaterAid UK. Massukos' leader, Feliciano dos Santos, who is known by his many fans as "the Elton John of Mozambique", is also the director and founder of the NGO Estamos (a WaterAid partner) who are involved with the installation of latrines and clean water points, as well as hygiene and HIV/AIDS education. Massukos regularly travel for miles to remote villages to deliver life-saving messages about hygiene, sanitation and HIV/AIDS.
Massukos' music preserves the traditional rhythms of Niassa province in northern Mozambique, one of the poorest parts of Africa, that were all but extinct after 17 years of civil war. In fact Massukos' first live public performance in 1994 coincided with the start of the peace process.
Playlist
Aretha Franklin: Do Right Woman, Do Right Man (Dan Penn, Chips Moman) (3:17)
Album: Global Divas – Voices from Women of the World
Rounder CD 5062/3/4, CD 3 track 2
http://www.sodamnhappy.com
Orchestra Baobab: Ami Kita Bay (Rudy Gomis, arr. Barthélemy Attisso) (5:49)
Live at Radio 3 Stage, WOMAD
http://www.myspace.com/orchestrabaobabofficial
http://www.orchestrabaobab.com
Devon Sproule: 1340 Chesapeake Street (Devon Sproule) (3:02)
Album: Keep Your Silver Shined
Tin Angel Records TAR001, track 3
http://www.devonsproule.com
http://www.tinangelrecords.co.uk
Massukos: Pangira (Massukos) (6:56)
Live at Broadcasting House
http://www.massukos.org
Charlie Gillet in conversation with Feliciano Dos Santos from Massukos
Massukos: Afrika (Massukos) (4:10)
Live at Broadcasting House
Kiran Ahluwalia: Yakeenan (Kiran Ahluwalia, Rafi Raza) (4:13)
Album: Wanderlust
World Connection WC 43070, track 5
http://www.kiranmusic.com
http://www.worldconnection.nl/kiranahluwalia
Odetta with The Holmes Brothers: Two Little Fishes and Five Loaves of Bread (Bernard Haneghen) (3:22)
Album: Shout, Sister, Shout! A Tribute to Sister Rosetta Tharpe
MC Records MC0050, track 4
http://www.mc-records.com
Orchestra Baobab: Cabral (adapted by Balla Sidibe and Barthélemy Attisso) (6:00)
Live at Radio 3 Stage, WOMAD
Chiwoniso: Matsotsi (Chiwoniso) (5:05)
Album: Rebel Woman
Cumbancha CMB-CD8, track 2
http://www.chiwoniso.com
http://www.cumbancha.com
Liz Green: Midnight Blues (Liz Green) (3:33)
Single: Midnight Blues
Humble Soul HS207 1, track 1
http://www.myspace.com/lizgreenmusic
http://www.humblesoul.net/artists/lizgreen/index.html
Issa Bagayogo: Poye (Yves Wernert, Gael de Billan, Issa Bagayogo) (4:25)
Album: Mali Koura
Six Degrees: 657036 v1151 2, track 3
http://www.issabagayogo.com
http://www.sixdegreesrecords.com
Massukos: Mulilanji (Massukos) (5:34)
Live at Broadcasting House
Charlie Gillett in conversation with Feliciano Dos Santos from Massukos
Massukos: Niassa (Massukos) (7:44)
Live at Broadcasting House
Orchestra Baobab: Colette (Barthélemy Attisso, Rudy Gomis, Ndiouga Dieng) (5:43)
Live at Radio 3 Stage, WOMAD
Barthélemey Attisso (guitar), Balla Sidibe (timbales, vocal), Rudy Gomis (vocals, congas), Latfi Benjeloun (guitar), Ndiouga Dieng (vocal, congas), Charles Ndiaye (bass), Thierno Koite (tenor sax)
Last on
Seven pioneering figures in world music
BBC Introducing on World on 3