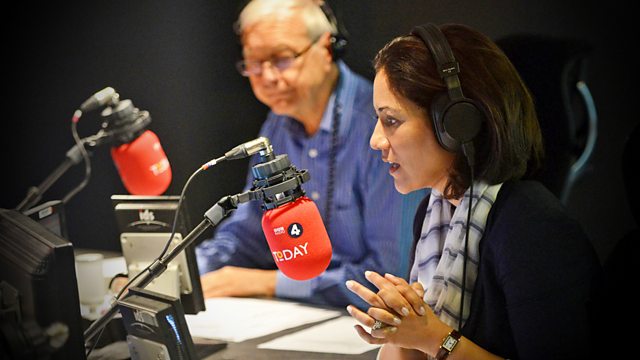 29/08/2008
Presented by Evan Davis and Sarah Montague.
Including:
US Ambassador to Nato Kurt Volker explains why he thinks Vladimir Putin believes that the US provoked the conflict in Georgia.
Prof James Galbraith of Harvard University discusses the US economic situation.
Child protection expert Donald Findlater explains how drugs can be used to treat sex offenders.
Olga Kavran, spokeswoman for the prosecutor's office at the International War Crimes Tribunal, discusses the trial of former Bosnian Serb leader Radovan Karadzic.
North America editor Justin Webb explains what it was like to be among the huge crowd that watched Barack Obama's acceptance speech.
Thought for the Day with Canon David Winter.
Culture Secretary Andy Burnham outlines a scheme to give children five hours of sport a week.
James Naughtie reports from the Democratic Party convention in Denver.
Prof Kenneth Newport and Dr Philip Ashton discuss the decoding of the 270-year-old diary of Charles Wesley.
Minister for Disabled People Anne McGuire and Preethi Manuel, who cares for her 21-year-old daughter with cerebral palsy, discuss carers' benefits.
Mike Thomson hears the stories of two young orphans in Juba who lost their parents in the war in Sudan.
Women's PGA founder Vivien Saunders and sports journalist Graham Spiers debate the new LPGA rule stipulating that players who cannot communicate in English will be suspended.
Former US Secretary of State Madeleine Albright and former Liberal Party leader David Steel discuss the challenges facing Senator Barack Obama if he becomes president.
Last on