Main content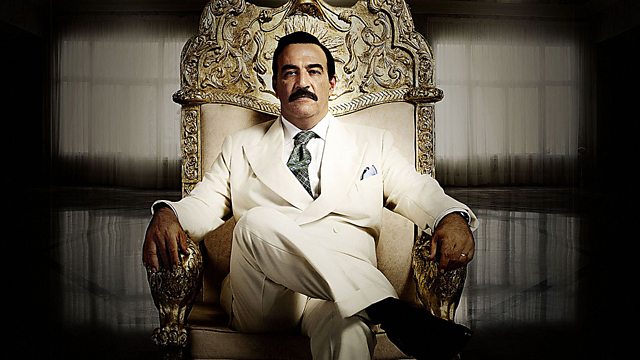 Drama series charting the rise and fall of Iraq's infamous dictator. In 1979, Deputy President Saddam and his allies force the current president to resign.
Igal Naor plays the ruthless dictator Saddam Hussein in a gripping, new, four-part drama series that charts the rise and fall of one of the most significant political figures in recent history.
It's March 2003 and, in the opulent presidential palace of Baghdad, Saddam Hussein watches defiantly as President Bush declares in a televised address to the Iraqi people that "the tyrant will soon be gone". The sound of bombs are heard in the distance.
Back to July 1979, again in Baghdad, during the seventh birthday party celebrations of his daughter, Hala, Deputy President Saddam and his allies force the intimidated President Ahmed Hassan al-Bakr to resign. Convening his first governmental congress of the Ba'ath party, Saddam exposes supposed detractors of his new leadership who are led from the courtroom and forced to "confess" to an attempted coup. Blindfolded and terrified, they are lined up against a wall and executed by members of Saddam's party in the ultimate test of loyalty to their new leader. The personality of the new president permeates Iraq: the image of a heroic and popular leader is projected to the people. When terrorist attacks tear through Baghdad, Saddam orders a full military rebuttal against the perpetrators, leading to the Iran-Iraq conflict.
As he continues to reign for almost 25 years in the face of mounting internal and external pressures the Iraqi President's ability to survive is revealed. Eventually, however, the House of Saddam begins to crumble - and its leader becomes increasingly isolated from both the international community, and his inner world.
More episodes
Previous
You are at the first episode
Credits
| Role | Contributor |
| --- | --- |
| Saddam Hussein | Igal Naor |
| Uday Hussein | Philip Arditti |
| Raghad Hussein | Agni Scott |
| Hala Hussein | Amber Rose Revah |
| Writer | Alex Holmes |
| Writer | Stephen Butchard |
| Producer | Steve Lightfoot |
| Director | Alex Holmes |