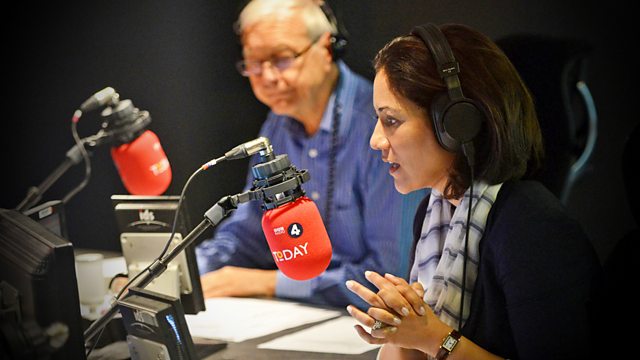 05/08/2008
Presented by Edward Stourton and James Naughtie.
Including:
Dr Barry Peters reports on a new vaccine designed to help HIV/Aids patients.
Journalist Richard Lloyd Parry and author Mark Leonard discuss the situation in China three days before the Olympics begin.
Should the Gangmasters' Licensing Authority be extended to include the construction industry? Employment Rights Minister Pat McFadden thinks not. GLA Chairman Paul Whitehouse discusses how to combat rogue employers.
Former US President Bill Clinton talks to Jane Dreaper about funding for HIV drugs.
Lord Lyell, chairman of the House of Lords Constitution Committee, discusses plans for 42-day detention for terrorist suspects.
Research reveals large gaps in the knowledge of high earners about incomes in Britain. Sarah Castell of Ipsos Mori discusses the findings.
Wyre Davies reports from the Jordan Valley on settlement activity on Palestinian land.
Robert Peston and Peter Montellier of Newcastle newspaper The Journal discuss the significance of the Northern Rock results.
Chancellor Alistair Darling discusses the economy and the Labour leadership.
Bryn Terfel explains what it is like to perform in front of 3,000 people.
Tim Parks and Indian novelist Amit Chaudhuri discuss the accuracy of novels based on India.
Former Conservative cabinet minister Norman Fowler and author Nigel Rees listen to some of the most famous examples of political euphemism.
Christian Tyler and Charles Cumming, author of a thriller built around an attack on the Olympics by terrorists from Xinjiang, discuss the situation in the Chinese province.
Last on
So you think you know the Today programme?