Main content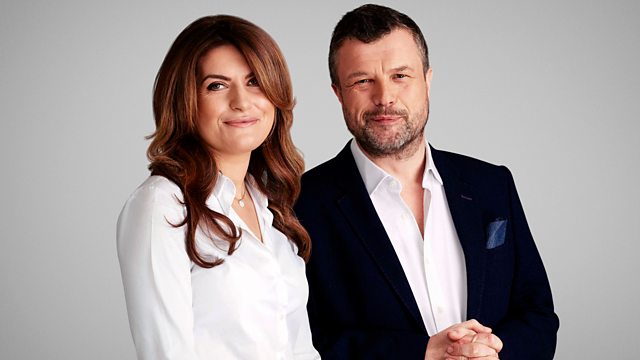 30/07/2008
With Rob Cowan. Including Anon/Dowland: Go my flock, go get you hence. Grainger: Lincolnshire Posy (excerpts). Bach: Prelude and Fugue in E, BWV78. Mozart: Symphony No 8.
With Rob Cowan.
Including:
Verdi, arr. Tarkmann: Overture (Il finto Stanislao)
Arte Ensemble Hannover
Anon/Dowland: Go, my flock, go get you hence
Monika Mauch (soprano)
Nigel North (lute)
Kuhlau: Sonata in A, Op 59
Jeno Jando (piano)
J Strauss II: Kunstlerleben
Hollywood Bowl Symphony Orchestra
Felix Slatkin (conductor)
CPE Bach: Symphonie in G
Akademie fur alte Musik Berlin
Mendelssohn: Andante cantabile e Presto agitato
Mikhail Pletnev (piano)
Tchaikovsky: Valse melancolique (Suite No 3 in G)
USSR Symphony Orchestra
Evgeny Svetlanov (conductor)
Grainger: Lincolnshire Posy (excerpts)
Eastman Wind Ensemble
Frederick Fennell (conductor)
Bach: Prelude and Fugue in E, BWV 878
Jill Crossland (piano)
Smetana: March for Shakespeare Festival
Prague Radio Symphony Orchestra
Vladimir Valek (conductor)
Son de la frontera: Buleria de la cal
Son de la Frontera
Froberger: Toccata prima in A
Herbert Tachezi (organ)
Vaughan Williams: Scherzo (Allegro con brio)
The Nash Ensemble
Handel: Suite No 4 in D minor
Evgeni Koroliov (piano)
Mozart: Symphony No 18
Royal Philharmonic Orchestra
Erich Leinsdorf (conductor)
Max Jaffa: Annen Polka
Max Jaffa (violin)
The Grand Hotel Orchestra
Amadeo Roldan: Comparas lucumi (Suite de la remambaramba)
The New World Symphony
Michael Tilson Thomas (conductor)
Schumann: Adagio and Allegro in A, Op 70
Daniil Shafran (cello)
Anton Ginsburg (piano)
Binge: Elizabethan Serenade
Studio Two Concert Orchestra
Reginald Kilbey (conductor)
Dvorak: Te Deum
Atlanta Symphony Orchestra and Chorus
Robert Shaw (conductor)
Bach, arr. Duchable: Jesu, Joy of Man's Desiring
Francois-Rene Duchable (piano)
Bach, arr. Belden: Joy of man's desiring
The Classical Jazz Quartet.
Last on

Broadcast