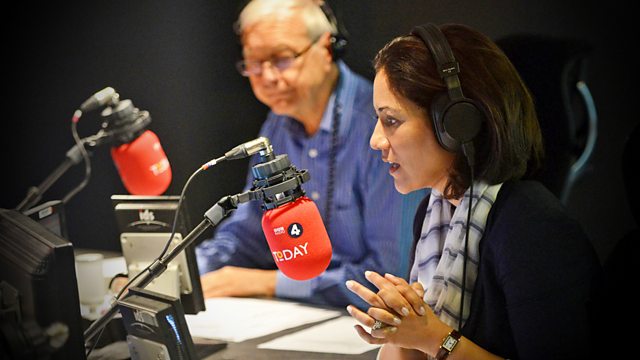 24/07/2008
Presented by Evan Davis and Nick Robinson.
Including
Former Undertones singer Feargal Sharkey of British Music Rights discusses a campaign which will involve hundreds of thousands of letters being sent to internet users suspected of illegally sharing music. Culture Secretary Andy Burnham talks to musician Billy Bragg and Becky Hodge of the Open Rights Group, a consumers' digital rights campaign.
Archbishop of Canterbury Rowan Williams discusses the importance of ending extreme poverty.
Barack Obama is to make a speech on transatlantic relations in Berlin. Steve Rosenberg reports on the warm reception the senator is expected to receive in Germany.
Thought for the Day with Rt Rev Lord Harries of Pentregarth.
Lance Corporal Matthew Croucher received the George Cross for risking his life by using his body to shield three comrades from a grenade. Best-selling author Andy McNab, who was awarded the Distinguished Conduct Medal and the Military Medal in the first Gulf War, discusses what makes people brave with AC Grayling of Birkbeck College, London.
The arrest of Radovan Karadzic has revived memories of the terrible Balkans conflicts of the 1990s. But in the former Yugoslavia, few people need reminding and many thousands still mourn. In 1995, the small town of Srebrenica in the north east of Bosnia witnessed the worst atrocity in Europe since World War II. Andrew Hosken reports.
Photographer Nick Danziger has just returned from two arid desert regions of eastern Ethiopia, Afar and Somali. He explains the series of photographs to highlight the plight of the people.
Last on