Main content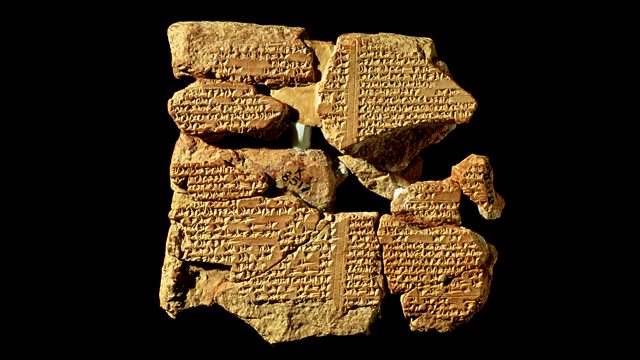 The Library at Nineveh
Melvyn Bragg discusses one of the greatest archaeological finds ever discovered – the Assyrian Library at Nineveh.
Melvyn Bragg and guests discuss the Library at Nineveh, a treasure house of Assyrian ideas from the 7th Century BC. In 1849 a young English adventurer called Henry Layard started digging into a small hill on the banks of the River Tigris in Northern Iraq. Underneath it he found the ancient city of Nineveh. Layard unearthed extraordinary things - wonderful carved reliefs, ancient palace rooms and great statues of winged bulls. He also found a collection of clay tablets, broken up, jumbled around and sitting on the floor of a toilet. It was the remnants of a library and although Layard didn't know it at the time, it was one of the greatest archaeological finds ever made.Conceived to house the sum of all human knowledge the library was built in the 7th century BC as the grand Assyrian Empire entered its last years. The clay tablets have proved to be a window into all aspects of Assyrian life, its literature, politics, religion and medicine – practises that are both deeply alien to us and alluringly familiar. With Eleanor Robson, Senior Lecturer at Cambridge University and Vice-Chair of the British Institute for the Study of Iraq; Karen Radner, Lecturer in the Ancient Near Eastern History at University College London; Andrew George, Professor of Babylonian at the School of Oriental and African Studies at the University of London
Last on
Broadcasts

Featured in...
Browse the Mesopotamian era within the In Our Time archive.

Popular culture, poetry, music and visual arts and the roles they play in our society.