Main content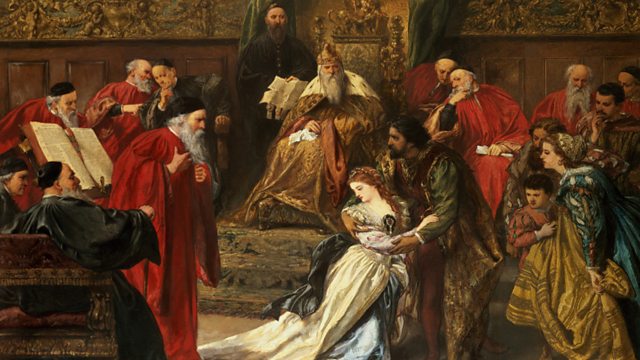 Lear
Melvyn Bragg discusses Shakespeare's King Lear, a shocking and violent vision of a broken family in a godless world.
Melvyn Bragg and guests discuss King Lear. Around the turn of 1606, a group of London theatre-goers braved the plague to take in a new play by the well-known impresario, Mr William Shakespeare. Packed into the Globe Theatre, they were treated to a tale of violence, hatred and betrayal so upsetting that it thereafter languished among Shakespeare's less popular plays.The story of Lear – of a man who divides up his property and loses the love of a daughter - is an ancient and ultimately happy one. But in the hands of William Shakespeare it became a shocking and violent vision of a broken family in a godless universe. So shocking that after the playwright's death it was shunned and rewritten with a happy ending. Only in the 19th and 20th centuries did Shakespeare's bleak, experimental and disorientating drama attain the status it has now. But why did Shakespeare take a story from the deep history of Britain and make it so shockingly his own and when, from the Civil War to the Second World War, did this powerful and confusing tragedy emerge as Shakespeare's greatest? With Jonathan Bate, Professor of English Literature at the University of Warwick; Katherine Duncan-Jones, Tutorial Fellow in English at Somerville College, Oxford; Catherine Belsey, Research Professor in English at the University of Wales, Swansea
Last on
Broadcasts

Featured in...
Browse the 17th Century era within the In Our Time archive.

Popular culture, poetry, music and visual arts and the roles they play in our society.