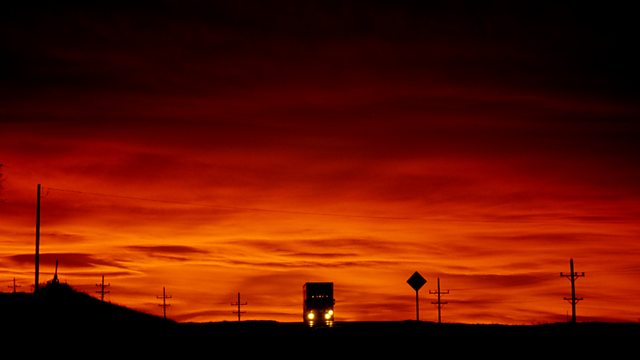 18/02/2008
With Jonathan Swain.
1.00am
Bernstein, Leonard (1918-1990): Mass (1971)
Oliver Aigner (bass)
John Cashmore (baritone)
Kaybee Cashmore (vocals)
Karin Seyfried (soprano)
Henrik Wagner (vocals)
Romanian Radio Academic Chorus
Romanian Radio Children's Chorus
George Enescu Philharmonic Chorus
Romanian National Radio Orchestra
Wayne Marshall (conductor)
2.42am
Gershwin, George (1898-1937): An American in Paris
Melbourne Symphony Orchestra
Jorge Mester (conductor)
3.01am
Debussy, Claude (1862-1918): Suite Bergamasque
Artur Pizarro (piano)
3.20am
Veracini, Francesco Maria (1690-1768): Sonata in F for Violin and continuo
Gottfried von der Goltz (violin)
Torsten Johann (harpsichord/positive organ)
Lee Santana (theorbo)
3.39am
Tchaikovsky, Pyotr Il'yich (1840-1893): Variations on a roccoco theme
Bartosz Koziak (cello)
Polish Radio Orchestra
Andrzej Mysinski (conductor)
4.00am
Rameau, Jean-Philippe (1683-1764): L'entretien des Muses
Bob van Asperen (harpsichord)
4.06am
Rigatti, Alessandro (1615-1649): Dixit Dominus a 8
His Majesty's Sagbutts and Cornetts
Monteverdi Choir
English Baroque Soloists
John Eliot Gardiner (conductor)
4.20am
Auber, Daniel-Francois-Esprit (1782-1871): Overture (Marco Spada)
Slovak Radio Symphony Orchestra
Ondrej Lenard (conductor)
4.31am
Mozart, Wolfgang Amadeus (1756-1791) : Adagio and Fugue in C minor, K546
Academy of Ancient Music (orchestra)
Richard Egarr (conductor)
4.39am
Koehne, Graeme (b. 1956): Trois pieces bourgeoises
The Australian String Quartet
4.52am
Haydn, Joseph (1732-1809): Der Augenblick for 4 voices and continuo
Schubert, Franz (1797-1828): Gondelfahrer for male voices and piano, D809
Stephen Betteridge (piano)
BBC Singers
Stephen Cleobury (conductor).
Last on