Main content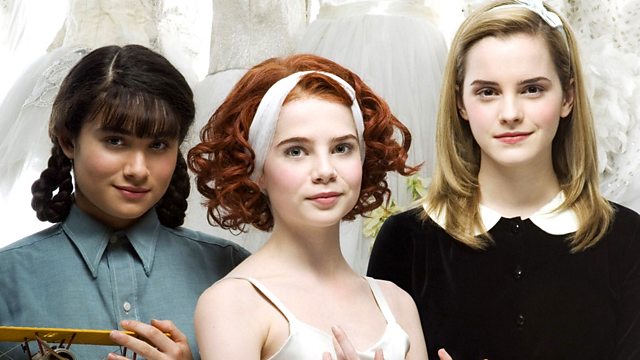 Ballet Shoes
Family drama. When their adoptive father vanishes, three young girls are forced to take to the stage. Not all are keen, and they must deal with showbusiness in their own way.
Orphans Pauline, Petrova and Posy Fossil are adopted by eccentric explorer Professor Matthew Brown ('Gum'), and raised as sisters by his selfless niece Sylvia. When Gum goes missing, Sylvia makes ends meet by taking in lodgers, whose actions change their lives forever.
The girls are enrolled in theatre school and put to work on the stage. This suits ambitious Pauline who longs to act, and Posy, a natural dancer, but Petrova, who longs to be an aviator, suffers great frustration and disappointment. Life in showbusiness is shot through with triumph, but hearts are broken and lessons learned before Gum returns and ensures a happy ending for all.
Credits
| Role | Contributor |
| --- | --- |
| Sylvia Brown | Emilia Fox |
| Nana | Victoria Wood |
| Pauline Fossil | Emma Watson |
| Petrova Fossil | Yasmin Paige |
| Posy Fossil | Lucy Boynton |
| Great Uncle Matthew | Richard Griffiths |
| Mr Simpson | Marc Warren |
| Writer | Heidi Thomas |
| Director | Sandra Goldbacher |
| Theo Dane | Lucy Cohu |
| Dr Jakes | Gemma Jones |
| Dr Smith | Harriet Walter |
| Madame Fidolia | Eileen Atkins |
| Winifred | Heather Nicol |
| Miss Jay | Mary Stockley |
| Clara | Teresa Churcher |
| Young Sylvia | Skye Bennett |
| Sir Donald Houghton | Peter Bowles |
| Mr French | Don Gallagher |
| Titania | Emma Darwall-Smith |
| Cobweb | Isabella Parriss |
| Moth | Jade Longley |
| Mr Sholsky | Adrian Lester |
| Mr Montague | Tim Wallers |
| Leopold Neville | Gresby Nash |
| Valentin Manoff | Ebe Sievwright |
| Featured Dancer | Ruth Brill |
| Featured Dancer | Natasha Mould |
| Featured Dancer | Jack Thorpe Baker |
| Producer | Piers Wenger |