Main content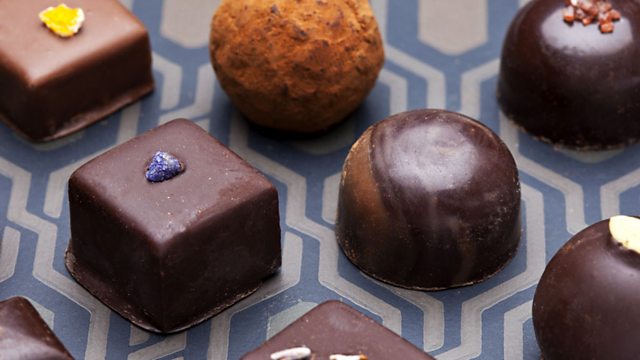 British Chocolatiers
Sheila Dillon meets the young British chocolatiers who are revolutionising the feel and flavour of chocolate.
Sheila Dillon looks at the small number of companies around the world capable of turning cocoa beans into chocolate – from the very large to the very small. She also meets the British based chocolatiers who are revolutionising the feel and flavour of fine chocolate.
Chloe Doutre-Rousel- a former chocolate buyer for Fortnum and Mason and author of the book The Chocolate Connoisseur explains who around the world makes chocolate.
Dan Saladino visits a chocolate factory in Banbury, Oxfordshire, owned by Barry Callebaut, the world's largest chocolate producer. It makes one out of four of the chocolates eaten around the world.
The programme visits an award winning Italian chocolate producer, Amedei, based in the town of Pontedera near Pisa and hears from chocolate maker Cecelia Tissieri.
Sheila visits chocolatier William Curley who describes how he turns Amedei chocolate into truffles and pralines in his kitchens in Acton. Sheila then meets another chocolatier Bill McCarrick who explains how he makes his own chocolate couverture with something called a conching machine.
Finally, Chloe Doutre-Rousel gives some tips on how to search out the perfect chocolate.
Last on
Broadcasts

Featured in...
The Food Programme takes a lip-smacking look back at some of the foods that make Britain.