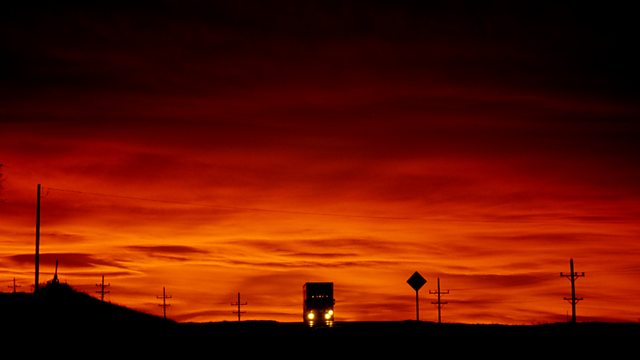 Through the Night
With Susan Sharpe.
5.00am
Grieg, Edvard (1843-1907): Triumphal March (Sigurd Jorsalfar)
Danish Radio Concert Orchestra
Roman Zeilinger (conductor)
5.10am
Elgar, Edward (1857-1934): Serenade in E minor, Op 20
BBC Concert Orchestra
Stephen Cleobury (conductor)
5.22am
Roussel, Albert (1869-1937): Le jardin mouillé, Op 3 No 2
Ola Eliasson (baritone)
Mats Jansson (piano)
5.26am
Hartmann, Johann Peter Emilius (1805-1900), arr. Gunther and Teuber: Blomstre som en rosengard
Fionian Chamber Choir
Alice Granum (director)
5.31am
Szymanowski, Karol (1882-1937): The Fountain of Arethusa, Op 30
Hyun-Mi Kim (violin)
Seung-Hye Choi (piano)
5.38am
Schubert, Franz (1797-1828), orch. Webern (1883-1945): 6 German Dances, D820
Luxembourg Philharmonic Orchestra
Justin Brown (conductor)
5.47am
Glinka, Mikhail Ivanovich (1804-1857): Overture (Ruslan and Lyudmila)
Trondheim Symphony Orchestra
Arvid Engegaard (conductor)
5.53am
Granados, Enrique (1867-1916): No 2 Oriental in C minor (Danzas espanolas)
Sae-Jung Kim (piano)
5.58am
Mozart, Wolfgang Amadeus (1756-1791): String Quartet in D, K155
Australian String Quartet
6.08am
Mussorgsky, Modest Petrovich (1839-1881), orch. Ravel (1875-1937): Pictures at an Exhibition
BBC Philharmonic
Yan Pascal Tortelier (conductor)
6.41am
Schmitt, Matthias (b.1958): Ghanaia for solo percussion
Colin Currie (marimba)
6.48am
Handel, Georg Frideric (1685-1759), arr. Steele-Perkins: 3 Airs from Vauxhall Gardens
Crispian Steele-Perkins (trumpet)
The King's Consort
Robert King (director).
Last on