Main content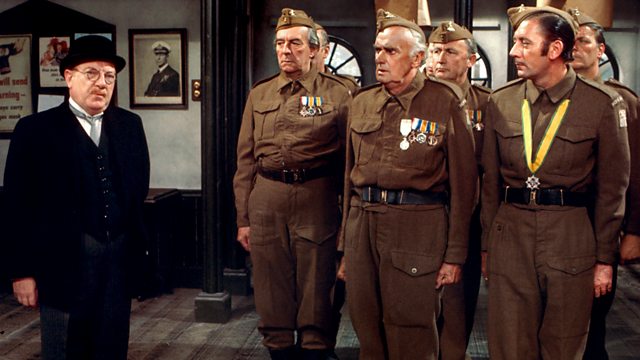 Salutes You, Sir! Forces Fun from the BBC
Ian Lavender's homage to BBC Radio's comedies about the Armed Forces. Includes Merry-Go-Round, It's That Man Again, The Navy Lark and Dad's Army. From November 2006.
Dad's Army's very own Private Pike aka Ian Lavender presents an homage to the humour generated for and by the British Armed Forces. Featuring:
* Merry-Go-Round - Army edition: 'Stand Easy' With Charlie Chester and Arthur Haynes (14/09/1945)
* The Victory edition of ITMA - It's That Man Again. Starring Tommy Handley (10/05/1945)
* Merry-Go-Round: Naval edition: 'HMS Waterlogged' With Eric Barker and Jon Pertwee (08/08/1945)
* The Navy Lark 'Mysterious Radio Signals' Starring Leslie Phillips, Stephen Murray and Jon Pertwee. (06/06/1971)
* Merry-Go-Round - RAF edition: 'Much-Binding-in-the-Marsh' Starring Richard Murdoch, Kenneth Horne and Sam Costa (11/04/1945)
* Dad's Army - 'Sergeant, Save My Boy' Stars Arthur Lowe, John Le Mesurier and Ian Lavender (11/03/1975)
Ian Lavender played Private Frank Pike in the much-loved BBC TV sitcom Dad's Army (1968-77) and also appeared in the BBC radio adaptations still to be regularly heard on BBC Radio 4 Extra.
Producer: Mik Wilkojc
First broadcast on BBC Radio 7 in November 2006.