Main content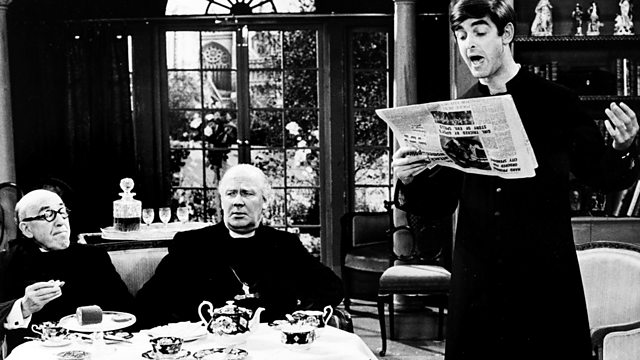 The Bishop Rides Again
The bishop works to secure a bequest. Clerical comedy adapted from TV. Stars Derek Nimmo and William Mervyn. From January 1971.
The Bishop works to secure a bequest. Clerical comedy adapted from TV.
Starring Robertson Hare as the Archdeacon, William Mervyn as the Bishop, Derek Nimmo as Bishop's Chaplain - the Reverend Mervyn Noote and John Barron as the Dean.
The ecclesiastical sitcom started life as a TV pilot in Comedy Playhouse, ahead of a run on BBC1 from 1966 to 1971. Selected scripts were revised and re-recorded for Radio 4.
The series revolves around the intrigues and rivalries of the fictional St Ogg's Cathedral. The regular characters are the easy-going Bishop, the elderly Archdeacon who enjoys a tipple with an eye for the ladies; and the naive and accident-prone Bishop's Chaplain. Their wish to live a quiet bachelor life is under continuous threat from the overbearing Dean.
Back in the swinging 60s, the series initially aroused some controversy because of its portrayal of senior clergy as bungling incompetents, although some clergy quite enjoyed it.
Written by husband-and-wife team Pauline Devaney and Edwin Apps.
Produced by David Hatch.
First broadcast on BBC Radio 4 in January 1971.