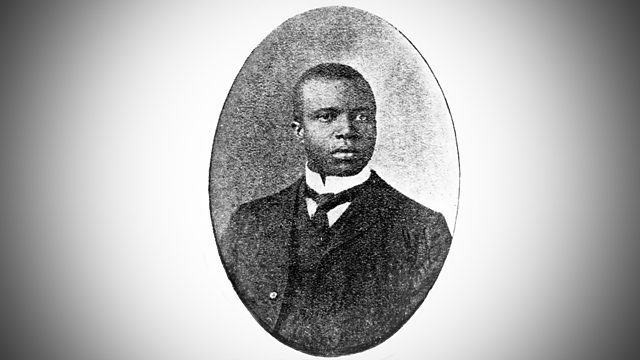 Donald Macleod examines how America's critics and musical establishment responded to ragtime. Supporters claimed ragtime was 'the only original and characteristic music America has produced thus far', but the music was seen by some as a moral, intellectual and physical threat.
Weeping Willow
Piano roll played by Scott Joplin
Bethena (A Concert Waltz)
Morten Gunnar Larsen (piano)
Something Doing & Binks' Waltz
The Southland Stingers, Ralph Grierson (piano), George Sponhaltz (conductor)
The Chrysanthemum & The Cascades
Dick Hyman (piano)
Treemonisha (Act 2 excerpt)
Superstition; Frolic of the bears
Ophelia Ragtime Orchestra, Morten Gunnar Larsen (director), Seim Songkor, Leif Egil Vatnøy (conductor)
Rosebud March
Scott Kirby (piano)
A Concert Waltz
Katia & Marielle Labèque (two pianos)
Treemonisha (Act 2 excerpt)
The wasp nest; The rescue; We will rest awhile; Going home; Aunt Dinah has blowed the horn
Simon ..... Raymond Bazemore (bass)
Cephus ..... Dwight Ransom (vocalist)
Treemonisha ..... Carmen Balthrop (soprano)
Remus ..... Curtis Rayam (tenor)
Chorus and Orchestra of Houston Grand Opera, Gunther Schuller (conductor).
Last on