Main content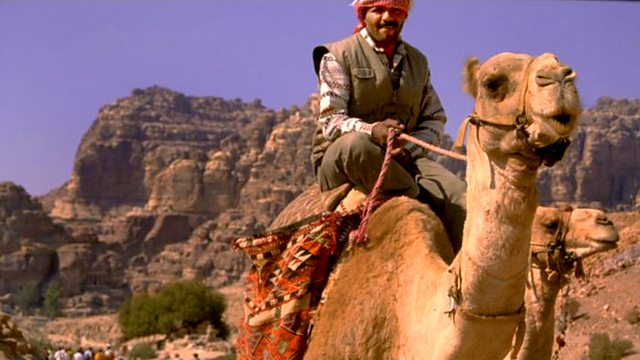 The Bedouin
Moshe Morad goes deep into the southern desert, spending time with two Bedouin brothers, Hisham and Hashim, to find out what it means to be a Bedouin and learn about their ancient customs. He makes rare recordings of their hypnotic and beautiful music.
More episodes
Previous
You are at the first episode
Clips

Music and featured items
Moshe Morad in the desert

Moshe Morad opens the programme from the Wadi Rum in the desert, the home of the Bedouins.

Duration: 04:10

Music Played

Hisham Abu Muteq, the Bedouins and the oud.

Hisham Abu Muteq tells Moshe about the Bedouins. He also plays the Oud in a sand storm.

Duration: 04:18

Music Played

A Hafla in the desert

In the desert Moshe discovers a Hafla. Bedouin men sit on the sand playing and singing.

Duration: 04:59

Music Played

Bedouin music traditions

Bedouin music traditions are explained. An old nomad Rebaba player and dancer performs.

Duration: 09:25

Music Played

The Rebaba and its "desert" sound

M'salm Abu Mohamad demonstrates the rebaba and its special "desert" sound.

Duration: 10:39

Music Played

Bedouins discuss their traditions

Bedouin hosts talk about their traditions around coffee, camels, story-telling and women.

Duration: 10:52

Music Played

The Shababa and Petra

Moshe meets Bedouin shepherd who plays the shababa, a Bedouin shepherd flute.

Duration: 05:08

Music Played

A Debka and the bagpipes

Bedouin men sing, clap hands, play the Darbukka and Scottish bagpipes!

Duration: 08:43

Music Played

Featured in...

This collection features our choice of musical highlights from across the globe.