Main content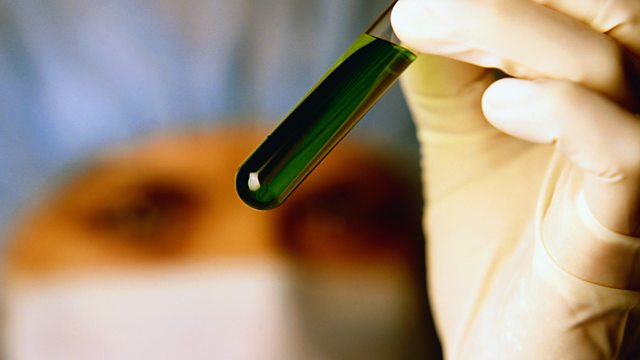 A medical worker injures herself with a needle treating a man. She wants the patient to have an HIV test, but guidelines prohibit it. Could he be tested without his knowledge?
More episodes
Next
You are at the last episode
Programme Transcript
Downloaded from www.bbc.co.uk/radio4 
THE ATTACHED TRANSCRIPT WAS TYPED FROM A RECORDING AND NOT COPIED FROM AN ORIGINAL SCRIPT.  BECAUSE OF THE RISK OF MISHEARING AND THE DIFFICULTY IN SOME CASES OF IDENTIFYING INDIVIDUAL SPEAKERS, THE BBC CANNOT VOUCH FOR ITS COMPLETE ACCURACY.
INSIDE THE ETHICS COMMITTEE
Programme 3
RADIO 4
WEDNESDAY                       12/09/07          2000-2045
PRESENTER:                       VIVIENNE PARRY
CONTRIBUTORS:               DOMINIC BELL
                                          AINSLEY NEWSON
                                          DEBORAH BOWMAN
PRODUCER:                        PAMELA RUTHERFORD
NOT CHECKED AS BROADCAST
PARRY
Welcome to the final programme of Inside the Ethics Committee.  Each week our panel, all of whom sit on hospital ethics committees, consider a real life case, highlighting the particular ethical dilemmas it raises and giving us an insight as to how they develop their sometimes controversial advice for clinicians.
Today the ethical issues are focused on best interests and in particular whose best interests should be paramount - should it be the patient or if their health and welfare are threatened should it be those of the clinical staff treating them or indeed those of wider society?  Add to this potent mix yet another thorny ethical issue concerning testing someone for HIV without their consent and you have the seemingly impossible sort of dilemma faced on a daily basis by clinical ethics committees.
We'll be hearing testimony from those involved in the case and at the end we'll be asking our panel for their advice, as well as telling you what happened in real life.  You too will have a chance to give us your thoughts about the case after the programme by telephone or on the website.
So let's get down to the details of today's case which was a direct result of the London bombings in July 2005.  Danny was the first seriously injured patient taken to one London hospital.  The consultant anaesthetist explains the extent of his injuries and the treatment that immediately followed his admission.
ANAESTHETIST
I can remember very clearly him bursting through the doors on a trolley being looked after by two paramedics who were covered in sweat and dust and just looked dreadful.  I can't remember seeing injuries quite as severe as Danny had.  Clearly one of his legs, although still attached, was gone - blown away - the other leg looked pretty nasty, wasn't likely to survive.  He was also covered in dirt and muck from having been down in the tunnel.  He was initially conscious but the severity of his injuries was such that quite quickly we actually popped him off to sleep and put big drips and things and started to give him lots of fluids.  I think when we first resuscitating Danny it wasn't quite clear what was a direct blast injury, what was caused by him being blown into things and also what's also clear what had been blown into him and I think as the day developed what was particularly unusual about the mechanisms of injury that all the patients had was that they all had shrapnel injuries and some of that shrapnel was actually fragments from other human beings.
PARRY
After many hours in the operating theatre Danny's heart stopped again.  His spleen had been ruptured as a result of the blast and he was losing a massive amount of blood.  It took 80 units of blood to stabilise him, about 10 times what normally circulates in the body.  He was taken to the intensive care unit and put on a ventilator.  It remained touch and go but gradually he began to stabilise and then to begin the long, slow road to recovery.  During all this time he remained unconscious.  And then an event occurred which whilst of no importance compared to what had happened to Danny was to raise profound ethical problems.  The member of staff involved takes up the story.
HOSPITAL STAFF MEMBER
One of the things with these big drips is they need to be secured properly and that they come with a small little plastic flange that you actually suture to the skin.  So in terms of the actual drip it had gone in fine but while I was suturing the drip to secure it to his skin so that it didn't come out - basically when I was securing it I pricked my thumb with the needle that I was suturing to the skin with.  So I went down to A&E and I saw the A&E registrar and we spoke about the fact that essentially he was low risk but if I felt that I wanted to take the medication prophylactically then I could and I should.  You kind of - you see that you have medication that could almost 100% prevent you from getting HIV if you had been inoculated and you have the situation where the chance of that actually happening are very, very low.  But I mean I'm the kind of person who if I could have an absolute I would choose that one.  So I have medication that I can take for 48 hours which will essentially guarantee that I won't get HIV if it was an HIV positive patient.  So I chose that route.
PARRY
The idea is that the medication should be taken until the patient has had testing to confirm their HIV status, so 48 hours in this case would be as long as it took to test Danny.  But Danny was unconscious and couldn't give his consent to testing.  And this inability to give informed consent is the core problem in today's case.
When this incident took place two years ago in 2005 there were GMC guidelines in place about testing for serious communicable diseases.  Danny could not be tested without his consent unless there were exceptional circumstances.  But were there?  The virologist that was asked to test Danny didn't think so.
VIROLOGIST
The risk of HIV transmission through a needle stick injury from a source, patient, who is HIV infected is in the order of one in a thousand.  As in this case with a solid needle and the member of staff was wearing gloves as well.  Now if you multiply that by an estimate of the prevalence of HIV in young adult white males who are heterosexual and don't use intravenous drugs this prevalence would be in the order of about one in ten thousand to one in a hundred thousand.  So if you multiple up those risks that then you obtain the figure in the order of one in a hundred million.  Taking all of these facts into account I felt that testing would be difficult to justify in this particular case.
PARRY
But cold hard statistics don't always provide the sort of reassurance that's needed.  The clinical staff member involved explains how she saw it.
HOSPITAL STAFF MEMBER
You know you can't put a mathematical formula into it and get a risk of 0.00034 therefore I won't take it because at .34 it's still there.  And if you just - you know if you kind of imagine what your life would be like if you got HIV and actually you have medication here that can absolutely prevent that that's why - that's why I chose that route, it was very, very low risk but unquantifiable.  Nobody could say you will not get HIV from this no matter what.
PARRY
So a really difficult dilemma.  And at this point let me introduce today's panel.  With me in the studio are Dominic Bell, consultant in intensive care and a member of the clinical ethics committee at Leeds General Infirmary; Deborah Bowman, a senior lecturer in medical ethics and law at St George's Hospital, London and a member of their clinical ethics committee and Ainsley Newson, lecturer in biomedical ethics at the University of Bristol and a member of the clinical ethics committee at the Royal United Hospital Bath.
Deborah, can I turn to you first and ask you to summarise what the main points, the main issues, that would be considered by the ethics committee in this case?
BOWMAN
I think there are three issues.  The first is about Danny's interests and what is in Danny's interests, particularly in relation to HIV testing.  The second is what happens when the interests of a patient and a healthcare professional collide or potentially collide.  And the third are the broader issues that surround HIV testing which for a long time has been treated as different ethico-legally.
PARRY
No before we start the discussion we just need to clarify that there's been a change in the law since this case occurred in 2005.  The Human Tissue Act has been introduced.  So first let's talk about this case in the light of legislation of the time and then we'll reconsider it in the light of legal changes that have come about recently.  So our first discussion is really whether it's in Danny's best interest to have an HIV test without his consent.  Deborah, can you just clarify what we're talking about exactly when we say best interests and why are they so important?
BOWMAN
Best interest is the marker by which we determine ethical practice when we can't, for whatever reason, obtain an insight into what the patient would have wanted.  Traditionally it's been linked to necessities, certainly legally one acts in best interest and does the minimal in order to improve or ameliorate the patient's condition.  Best interest is often a concept that will come to court, it's a concept that exercise ethicists and what they are trying to do and what we're all trying to do there is get some idea of what it means for this patient in this circumstance at this time to receive optimal care and that's broader than just best medical care, it's being alert to all the psychosocial aspects of a particular case as well.
PARRY
Ainsley, is this in his best interests?
NEWSON
Generally for a person to know whether or not they have HIV could be considered to be in their best interests because it is no longer the death sentence that it was say 10 or 15 years ago.  There are good treatments available to prolong the manifestation of illness, the stigma associated with the disease is still present but is much reduced compared to how it was 10 years ago.  And we now have routine testing for HIV in some areas of healthcare, for example pregnant women are routinely offered HIV screening, as are people who present to sexual health clinics.  However, all of those kinds of tests are done with the patient's consent and prior acknowledge and information.
PARRY
Now at the time there was this concept of exceptional circumstances, Dominic you've been involved in a case where there were exceptional circumstances, what might they be?
BELL
The - my definition of exceptional is clearly going to be subject to interpretation.  The GMC clearly have a view that's not exactly specified which as a healthcare worker I don't find particularly helpful.  But if we look at it from the healthcare workers' perspective they are faced, as the member of staff articulated here, a fear that has got no relation proportionally to those figures that were given out by a consultant virologist - an independent healthcare practitioner who is not actually facing that specific risk. And if the healthcare worker is - has got a very personal perspective on what the risk constitutes that is causing her a great deal of anxiety, that is potentially spilling over into all aspects of function and wellbeing and at the same time she knows that in trying to modify the risk of HIV she is going to be taking medication with a particularly toxic profile then that is when I think people can have a debate about what exceptional constitutes.  And for me when the welfare of that healthcare worker is compromised then that is how I would interpret exceptional.
PARRY
Ainsley, there has been a change in the law recently, just briefly tell me what that is.
NEWSON
Two pieces of legislation have recently come into force and one of those is the Human Tissue Act and in this act there is essential principle of consent, so any kind of use or storage of human tissue needs to be subject to appropriate consent.  And now there are some exceptions under that act for types of testing and one of those involves testing people who cannot consent for themselves.
PARRY
Deborah.
BOWMAN
What I am interested in is when Dominic is talking about exceptional circumstances, he's generally talking about something that affects the healthcare worker, whereas normally we'd be talking about exceptional circumstances linked to best interest for the patient.  And so I suppose there's a bit of a change there and I think the Human Tissue Act has probably focused our attention more on the patient rather than perhaps localised risks for healthcare workers.
PARRY
But the guidelines that were in place when Danny was injured relate to a time when HIV was really much more of a death sentence than it is now, as you were indicating Ainsley, so Dominic what's the clinical argument that it's best for Danny to know his HIV status?
BELL
Simplistically for Danny would be that advances, as Ainsley alluded to, have made significant inroads into the life expectancy of individuals who have HIV status identified early and are treated appropriately.  The highly active antiretroviral therapy can extend an individual's expected life span from between 20-30 years, compared to the historical norms.
BOWMAN
Absolutely, Dominic of course is right about that but that is a model that presupposes treatment is the only good here and the treatment itself is not without side effects, is not without an impact on people's lives, there are still all sorts of consequences that go with a diagnosis - stigma may be reduced but I don't think we know that it's eliminated.  We certainly don't know the individual effects it can have on people in terms of occupation, wellbeing, marriages etc.  So there are broader issues here simply than the fact that we now have improved treatment.
PARRY
And there would be a whole series of consequences, for instance you would have to perhaps consider telling his partner if he had one.
BOWMAN
Absolutely, this is knowledge, once you have it, you can't not have it anymore and you have to identify other stakeholders.
PARRY
Ainsley.
NEWSON
I think it's important to get to the crux of the issue here.  I don't think any of us are arguing that having an HIV test is necessarily a bad thing, or necessarily a good thing.  But what I'm asking is why test now?  It's important here to recognise the fact that we are testing for the benefit of the health professional involved.  Danny could choose at any point in time to have an HIV test, the reason the test is being requested now is for the benefit of the health professional.
PARRY
Ainsley, is stigma a reason not to test?
NEWSON
Not per se, not necessarily but I think we need to look to the issue of stigma when assessing whether to have a test and for this reason we tend to ask people in advance of testing whether they would like to have that test and we also provide them with information about the consequences of that test.  Even in routine testing, which is programmes where testing is offered as a matter of course to a select group of the population, people being offered the test in those circumstances get given a leaflet explaining the condition for which the test is offered, explaining the options for treatment if a positive result is found and explaining what they can do in deciding whether to have the test or not.  The harm that this health professional was being subjected to, that is the side effects of the drug regime that she was taking and the potential impact that had on her clinical duties and also the psychological trauma she was going through, were all temporary harms.  Whereas the harm from having a non consential test that will give you a result that is irreversible - you cannot unknow that result once it is known - is a permanent change for Danny.  Whereas all the harms for the health professional were temporary.
PARRY
You're listening to Inside the Ethics Committee on BBC Radio 4.  This week, in the last of the current series, we're discussing the case of Danny, one of the people severely injured in the 7/7 bombings.  He lies unconscious in intensive care but a member of his medical staff looking after him has sustained what's called a needle stick injury, whilst treating him she pricked her finger with a needle contaminated with his blood.  Danny's risk of HIV was low but he had had multiple shrapnel injuries, themselves contaminated with blood from everyone in the carriage at the time.  Even with low risk there could still be a question of HIV infection.  But because Danny's unconscious he can't give his consent for HIV testing.
The member of clinical staff involved explains how the situation developed and how she felt while taking prophylactic medication.
HOSPITAL STAFF MEMBER
Each day as it came and went I just kept expecting it to be sorted out.  And one more day of medication was okay, as long as it would happen the next day.  And I can't remember at what point it became clear but it was probably a week into it at least that I started to think actually he wasn't going to be tested.  I wanted to just throw my hands up in the air and just go what is going on here, what about me, you know and all the advice that was given was all about the rights of the patient and how it would impact him and how it would impinge on his human rights.  And all of that made sense to me but here I was taking toxic medication that was making me, at this stage, feel awful, I just kind of had disbelief actually that this was happening and that his human rights of a potential positive test that could potentially in the future impact him and that he would potentially have said no to it, all these ifs and ifs and buts and actually here I was actively taking medication making me feel ill at this stage, I was missing work and not doing on calls and I'm not an unhealthy person and I can take a lot of hits but at this stage it was impacting on me significantly.  As doctors we give a lot and our work is very demanding and we're always putting our patients' interests first.  And then when there's something that impacts us it's kind of like well totally secondary.
PARRY
Deborah, what's your immediate reaction to that?
BOWMAN
My immediate reaction is sympathy.  But I don't think that my initial sympathy should form the basis of an ethical analysis.  One of the functions of an ethical analysis is to look at something in the round, emotion's important but it can't be the whole story.
PARRY
Well I wanted now to talk about balance of interests, whose interests are paramount here - those of the doctor we've just heard from, how can her rights be balanced against those of Danny lying there in his bed and where does a doctor's responsibility to their patient end?  Deborah, if it's not in Danny's best interest to be tested, as we've just decided, is it ethical to test solely in the interests of a third party?
BOWMAN
I don't think so.  That isn't a common view and I suspect others would disagree with me but I don't think so.  I understood the point about risk but there are lots of jobs in which people take risks and I think it's very dangerous to start effectively making patients instrumental to third parties, for whatever reason the law on HIV has been constructed in a particular way and I think by prioritising the interests of the healthcare worker one is not only breaking the law, one is compromising other people - other people who may be involved in doing something unlawful - who may not share this person's view that her rights should supersede the patient's rights.  I also wonder whether the language of rights is actually helpful here.
PARRY
Haven't we effectively got two patients here Dominic?
BELL
I would say very much so and the one we can identify as suffering the most immediate and ongoing harm would be the healthcare worker.  And I understand, well I accept the position of my colleagues here but I would suggest that they are somewhat distant in the ethical committee from the actual clinical interface where this risk is actually real.  And I think healthcare workers do accept the inherent risk, especially front line in emergency services, but I don't think that means or should be translated into a need to take unnecessary additional risk.  Are you suggesting that simply because someone signs up for the armed forces that they should go without adequate protection into the field?  And it's exactly that - this is a risk that is containable.
BOWMAN
But I think we've already heard that there were protections put in place, nobody is saying that there wasn't protection, she didn't - she was gloved, she took all the appropriate procedures to avoid risk.  Those are very good sound bases for practice.  And I think it is extremely dangerous to make decisions on the basis, particularly decisions that circumvent democratic law, on the basis of I am there ergo I know what's what.  It would be a very risk basis on which to make ethical decisions.
BELL
I'm not too sure that what we're talking about is democratic law.  I think we've already discussed that we have had a historical - guideline that's based on historical principles and from the regulatory body and we have had a restrictive component in new statute that has followed on from major scandals such as Alderhay and has been transcribed from...
BOWMAN
But exactly that guideline was from the GMC that regulates doctors, a doctor based organisation, because the GMC guidance was presumed to be inadequate because there were scandals.  We have now involved the rest of society who have prioritised consent.
PARRY
Ainsley, where do you fall in this discussion?
NEWSON
I must admit that I'm genuinely undecided about this issue and all I can offer really is a framing of the questions as I see them, a framing of the issues.  And I think to me what it comes down to is what as a healthcare professional do you sign up to when you enter your job - do you sign up to expecting to be treated the same way as everybody else or are there certain inherent risks associated with being a health professional working in a busy hospital that you have to take on board and you have to be prepared to do the necessary behaviours in light of that?  So as a healthcare professional here if you do get a needle stick injury do you expect that you should take the prophylactic treatment, as opposed to testing somebody else without their consent?  And I think that to me is the crux of the issue but I genuinely don't know whose interests should be paramount.
PARRY
I mean for instance any healthcare worker that nurses someone with a very infectious disease - SARS for instance - you know no matter how carefully they gown up and they take the necessary precautions there is no guarantee.
NEWSON
And there was a lot of discussion about this when the SARS epidemic occurred and the literature came down on two sides, as you could possibly imagine, and one thing that came out of it was there needs to be a statement of professional expectation because most of the authorities are silent on this issue, they don't provide guidance as to what is expected.  Do you have a duty to care for patients in these risky circumstances or can you opt out?  The thing with doctors though, particularly, as opposed to other health professionals is they have a lot of freedom to practise, they're a self-regulating profession, they are fairly generous remunerated for what they do and they, at the end of the day, have the opportunity to practise in a way that not many other professions do.  And so is that a trade off that is something that they should take on board, do the risks come hand in hand with the benefits that they receive?
PARRY
Dominic, well remunerated person that you are, how do you react to that?
BELL
The issue of risk is inherent in the clinical responsibilities and certain frontline clinical specialties will naturally have more exposure.  The risk that I believe we should be modifying is that of being able to make an informed choice in the event of those risks of needle stick injury materialising and that I think we have created a barrier here which has imposed an additional unnecessary risk on front line staff which has got potentially adverse consequences longer term.
PARRY
Deborah.
BOWMAN
And I think that's the case that doctors should be collectively be making, that's an eloquent argument, it's an argument that should be had, it's a debate we need to have.  But at the moment it isn't happening.  And I think one of the things I think comes out of this is an ethical imperative upon clinicians not to argue that they should be able to use their judgement individually but to say look guys we need to debate this inclusively, not just doctors, everybody.
NEWSON
The other thing I think is important here is that the health professional did have a choice, which was to take prophylactic treatment or not.  So she wasn't condemned to a certain pathway with no choice at all and she certainly wasn't condemned to contract HIV against her will, she was given some options to mitigate an already low risk and she chose to do that. 
PARRY
Dominic, is low risk to a healthcare worker a defensible position not to test?
BELL
No I would say not and I go back to what Ainsley said earlier when we were talking about the best interests of Danny in testing and you were quite firmly opposed to it and alluded to there still being a stigma attached to HIV status.  So that whereby the HIV status - finding that status - would not be in his best interests.  And you drew - you then drew some conclusions that the harms to the healthcare worker were so small that proportionally ...
NEWSON
I didn't say they were small, I said they were short term.
BELL
Well I think that's actually potentially being quite paternalistic, having heard what she said about the impact on her psychologically, not only the negative impact of the medication but the impact of feeling frustrated that here she was in a system that seemingly had no process in place and there seemed to be no solution.  And there are longer term harms to that being exposed to that uncertainty for that individual.  So I don't think that the harm is something easily containable, short term and I think it is possible to over-emphasise the relative harm to the patient of testing.
NEWSON
Can you articulate why you think testing is in Danny's best interests?
BELL
I've not - I would never say it is - it would be in his best interests.  Our interpretation of best interest is that defined by the Department of Health in all the consent guidance and indeed from the GMC that best interest goes beyond best medical interest and incorporates their values and beliefs.
NEWSON
Of course that's a standard definition.
BELL
Yes and so that could include surely - surely incorporate his wishes to allow a member of the healthcare team to make an informed choice early enough to allow them not to be exposed to certain harms.  And I think best interest does accommodate that wish to avoid harm.
PARRY
Aren't you really saying here that actually Danny would have agreed if he'd known, so therefore it's going to be alright?
BELL
On a balance of probabilities I would say that's an overwhelming certainty.
PARRY
Deborah, you clearly disagree there.
BOWMAN
I just simply cannot accept the presumption that anybody has even thought about this, still less got to a position where they believe healthcare workers effectively a group that we should all be treating differently actually.  And I think the other very striking thing is that best interest, as you define it, of course it could incorporate values, beliefs about healthcare workers but it's only in relation to the patients, so only in relation to Danny.  And if he wants to do an altruistic thing, as a capactous  patient, that's fantastic and I'm sure he might but he's not capacitous and to presume altruism on an unconscious patient that leads in fact to a separate group being treated really quite differently from the rest of the population I would find extremely concerning.  I'd also say that actually Christine Siepert, who is an American doctor, wrote very pointedly about her experience post-needle stick injury.  She felt much of what this healthcare worker felt.  But then reflected on it and had a very different experience and several of things that came out for her were how awful she felt on the medication which actually made her think how awful other people must feel on medication all the time, why she should be treated differently, why she should get certainty when others do not.  And she reflected on this, wrote about it very eloquently, and I would no more generalise from her case than from this individual's case.  I think it's a debate to have that's got to include everybody not just individual difficult sympathetic cases.
PARRY
The case went to a clinical ethics committee and the consultant anaesthetist we heard from earlier was on that committee.  He explains some of the difficulties they had.
ANAESTHETIST
When I first considered the case I felt that we should not test Danny.  I think as the case developed I did change my view.  I stopped viewing the member of staff as a member of staff and recognised that they were now also a patient and you're then in this very difficult situation of weighing up one patient's best interests against another.  And I also felt that there was no harm and there was potential benefit for Danny.  That actually if he had got HIV or hepatitis, either because he had before he was in the bombing or he'd got it as a result of that bombing, that that was pretty important information that he had a right to know.
PARRY
But this case raised broader issues than simply for the people directly involved and perhaps we ought now to move on to discussing what the ethical implications for wider society are.  Dominic, how do you think the current situation will impact on healthcare if legislation doesn't change to allow for testing in circumstances where it's not in the patient's best interests?
BELL
I think it's reasonable to postulate that staff will try to limit their exposure to risk if that risk materialises they're not allowed to make an informed choice based on a result.  And that might mean consciously, subconsciously, limiting interventions on patients that do expose them to that risk.
PARRY
What impact could that have?
BELL
I think already it is known, though not I suppose formally documented or surveyed, that individuals will try to limit interventions and their exposure on patients that are known or strongly suspected to be HIV positive, such as invasive monitoring, additional invasive procedures such as tracheotomies on intensive care might be delayed simply because of knowing that opening body surfaces, engaging in invasive monitoring, does inevitably expose the operator and associated staff to a higher risk of blood contamination.
PARRY
Ainsley.
NEWSON
I sort of feel like we're steering slightly off topic here because if we know that a patient is HIV positive then that information is already there and we don't need to discuss whether to test that patient or not.  And presumably in today's day and age any patient that comes through the door you assume ...
PARRY
You potentially assume they are infected.
NEWSON
... and there are good infection control procedures no matter who comes through the door.  So I think the picture being painted might not necessarily be as dramatic as we might think.
PARRY
Deborah.
BOWMAN
I think the other thing I would add to that is in thinking about this issue I discovered several papers written about doctors working in high risk areas, such as Africa, Uganda notably, where not only is there a high risk but there are actually not the available procedures and precautions that we would expect to take and there has been no effect on recruitment and they talked about why they worked in that context.  I think it's a terribly depressing model of healthcare that people will avoid risk in an organisation where universal precautions are just that - universal.
PARRY
Is there a danger though that there would be a mistrust of health professionals if the law was changed to allow for non-consential testing when it's not in the patient's best interest?
NEWSON
At the moment in clinical practice we have some very important tenets.  One is getting consent from patients before we do things to them, in most circumstances.  The other is protecting the information that we hold about patients, that is maintaining confidentiality.  And the reasons underpinning protecting those very important tenets in medicine is, as you say, to uphold the trust between doctors and patients and we've seen some very high profile losses of trust in the health profession in the United Kingdom in recent years such as the organ scandals and the heart scandal and things like that.  So we -  I think trust is very important to the doctor/patient relationship, it keeps patients coming back, it encourages them to make a full disclosure.  And in making guidelines to allow for testing without consent we have to be extremely careful to draw appropriate and well argued and well debated boundaries around what we might test for without consent and in what circumstances and we need to be very open about who that might benefit and who that might harm before we take it further.
PARRY
What's your response to that Dominic?
BELL
I would welcome that and I think take that question to broader society, let's engage them on the topic and if there is overwhelming support for altruistic acts that allow healthcare workers to make an informed decision then that would be to my mind the most positive way to go about it than simply introducing legislation because of the implications that you've alluded to.
PARRY
Can we assume that he would give permission, I mean it seems a very reasonable thing to do in the circumstances and many people listening might think this is a bit of a storm in a teacup and of course they would consent to testing.  But is that a fair assumption?
BOWMAN
No I don't think it is and even if it were it's an assumption and one is essentially going to challenge what Ainsley's identified as cornerstones of ethical practice on the basis of an assumption and I think that's a troubling thing to do.
PARRY
And have you ever had anything happen in your own career that - where you had assumed that somebody would consent to something and then they didn't?
BOWMAN
I can think of lots of circumstances where students have come back having seen patients and said it's ridiculous, he/she doesn't want x, y or z because in the medical textbooks it's the obvious thing to do.  What they forget is that there's a person sitting there with all sorts of competing values, interests and narratives.
NEWSON
There is actually an example in the literature with - from another clinical ethics committee about 12 years ago where they also had a needle stick case and it was from a patient where they did suspect infection from either HIV or hepatitis and that patient was conscious and that patient explicitly refused an HIV test.  And the law was different at that time to what it is now but the committee really deliberated over whether to override that refusal.
BOWMAN
Absolutely I remember the case and I think one might be sitting here thinking but that's awful but the counter to that is that if we overrode that competent refusal we would be taking away someone's right to self-determination and that is a very big thing to do.
NEWSON
And indeed now it is actually against the law, according to the Human Tissue Act, to test a sample, even if it's for the benefit of a third party in the face of an explicit competent refusal by a patient.
PARRY
And of course that's one of the things that we've really learnt in Inside the Ethics Committee that people are free to make their own decisions no matter how strange they may seem to the rest of us 
From the discussion here today this is a really tricky, tricky case.  How would each of you had advised the ethics committee in this case and what would be the main points that you would draw out?  Dominic, just what your advice would be in this situation.
BELL
My advice would have been exactly what we did in our own institution.  With a starting position that we believe the guidance from the regulatory bodies is based on historical circumstance, that the position at law is caught up in issues such as Alderhay and really what we're wanting is a more pragmatic solution that accepts there is a balance of rights and responsibilities in this interface and that the next of kin are the best to articulate that.
PARRY
So your advice would be to talk to the next of kin and to try and persuade them to agree?
BELL
Not to persuade them, to try and gain a genuinely representative view.  Just as we do with the next of kin for all other aspects of healthcare decision making for the incompetent patient, particularly the one on intensive care when we're making decisions about operations, monitoring, interventions, imaging, investigations of a whole range of diagnoses other than HIV.
PARRY
Ainsley, what would your advice have been?
NEWSON
My advice for the particular circumstances of this case and what I would emphasise there is the fact that the assumption about potential HIV infection was that Danny was very low risk, we had an anxious health professional who was not reassured by a risk of one in a million.  So for this particular case I would make the points that Danny would not have been tested were it not for the needle stick injury and also I think we have to ask why now now - why are we testing now?  So given those factors my advice in this particular case would be not to test.  However, that's not to say for other cases that the decision would be the same and I always look to the contextual features of the case that's in front of me as a member of an ethics committee when making a decision.
PARRY
Deborah.
BOWMAN
Perhaps unsurprisingly I agree more with Ainsley than Dominic.  I would have advised that testing wasn't justified.  I absolutely support what Ainsley says about the timing and the particular circumstances of this case, suggesting that the healthcare worker's interests are going to trump a patient's, under circumstances that, absolutely as Dominic says, for historical reasons may be completely illogically.  HIV is different but it is different and I think for those reasons ethics and law has to come before pragmatism.
PARRY
Well thank you to my panel today - Deborah Bowman, Dominic Bell and Ainsley Newson.
What did the real clinical ethics committee advise and what actually happened in the end?
ANAESTHETIST
The decision of the ethics committee was that it would have been ethical to test Danny whilst he was unconscious.  The decision made by the hospital, by the medical director and the chief executive, having taken legal advice was that in this instance we would not test.  But they reserved the right in another case to take a different decision.
PARRY
And what happened to Danny?
ANAESTHETIST
Danny, I'm delighted to say, made an amazing recovery after weeks of intensive care and weeks in hospital.  And when Danny was finally able to give consent he did so immediately and I can't actually say the words he used but he basically said why on earth did you not do it when I was unconscious.
PARRY
You've been listening to Inside the Ethics Committee and if you'd like to have your say or find out more information about the topics covered in this programme then you can go to bbc.co.uk/radio4 and follow the links to Inside the Ethics Committee where you can leave your comments.  Or you can call the Radio 4 Action Line on 0800 044 044.  This is the last in the current series but Inside the Ethics Committee will be back again next year with another series of ethical dilemmas.  Until then goodbye.
ENDS
Podcast
Joan Bakewell and a panel of experts wrestle with the ethics of a real-life medical case.