Main content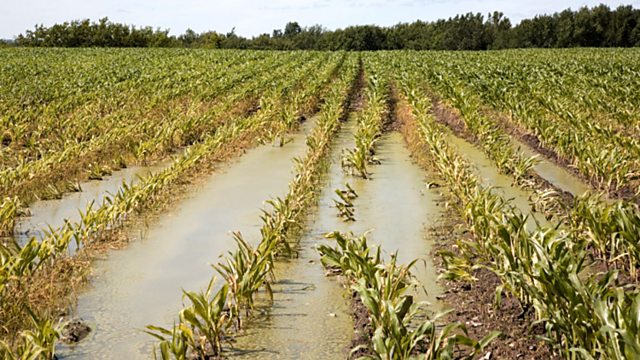 Impact of Floods on Food Supplies
Sheila Dillon looks at the impact of the recent floods on food supplies. She hears the stories of those who have been directly affected and explores the wider questions.
Flooded fields are drying out, but the long-term consequences of this year's heavy rainfall and flooding—on the quantity and quality of crops—are only now beginning to be calculated.
On this week's Food Programme Sheila Dillon will be hearing from growers, food processors, and the supermarkets about the impact they are seeing of the floods.
Ian Tolhurst an organic grower who delivers 400 fruit and veg boxes a week explains that he's expecting shortages of some varieties and prices will have to go.
Keith Cricks of Pinguin Foods one of the biggest vegetable processors in the UK explains how we are likely to see a shortage of peas because crops were so badly affected by the weather.
Sheila also hears from a farmer whose potatoes have been destroyed by blight and a rape seed grower who produces a cold pressed oil who has seen a lower yield this year.
Two years ago New Orleans and the surrounding Louisiana countryside were devastated by one of the most dramatic floods in US history, brought on by Hurricane Katrina. Sheila Dillon talks to Poppy Tooker, leader of the New Orleans Slow Food Convivium about how she helped rebuild the food system there.